JetBlue Airways is adding Dublin and Edinburgh to its palette of European destinations beginning in March.
The New York-based carrier launched sales for seasonal flights to the two cities on 25 October. Flights to Dublin from New York and Boston will begin on 13 March, and to Edinburgh from New York on 22 May. The daily service on those three routes will last through the end of September.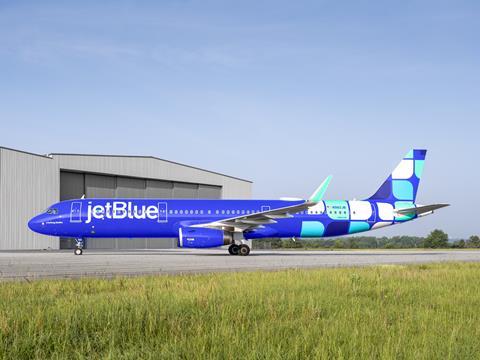 "The success of our transatlantic service proves customers don't have to choose between great service and low fares and can have them both with our award-winning Mint and core products," says JetBlue chief executive Robin Hayes. "Our summer seasonal service to Dublin and Edinburgh will bring a new level of service and affordable fares to these markets that have been dominated by high-fare legacy carriers for decades."
That brings the number of cities the carrier operates to in Europe to five. The Dublin and Edinburgh routes complement flights to Amsterdam, London and Paris. The airline operates the transatlantic flights with its fleet of Airbus A321LR aircraft.
In addition to the Dublin and Edinburgh connections, JetBlue says it will initiate year-round service to Paris from Boston in April, and will add a second daily flight to Paris from New York in June.
All told, next summer, the all-Airbus narrowbody operator plans to operate 12 flights to Europe from the USA on 11 routes. Its connections to Amsterdam, however, are under threat as Dutch aviation authorities are currently considering capacity reductions at that country's main international airport, Schiphol.
JetBlue will report third-quarter financial results on 31 October.