JetBlue Airways has filed a complaint with the US Department of Transportation (DOT) against the government of the Netherlands for repeated rejection of slot requests at Amsterdam's Schiphol airport.
In a filing on 14 February, the New York-based carrier goes so far as to ask the US government to forcibly confiscate slots from Dutch carrier KLM as a last resort, after repeatedly being thwarted by "blatant" discrimination from Amsterdam's slot coordinator Airport Coordination Netherlands (ACNL).
Jetblue reveals in the filing that it is "ready, willing and able" to launch flights to the Dutch city from John F Kennedy International and Boston Logan International airports. The airline, which currently operates flights to London from both US cities, did not immediately respond to a request for comment about its plans to serve Amsterdam.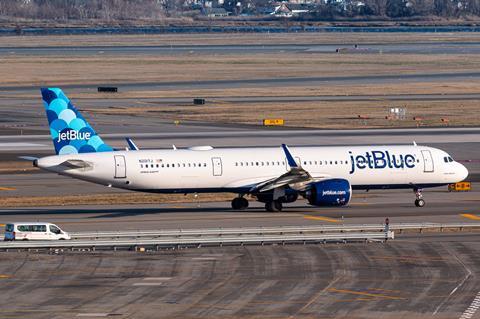 In its complaint, JetBlue outlines numerous recent requests to ACNL for permission to operate flights between the East Coast of the USA and Amsterdam, the primary airport that serves the Netherlands, and third busiest airport in the world by passenger volume.
"The refusal of the government of the Netherlands to make slots available to JetBlue is due to the government's noise reduction plan involving a drastic reduction in the number of annual flight movements at Amsterdam," Jetblue says.
The airline contends the Dutch government's conduct violates the US-European Union Open Skies agreement, as well as the International Air Transportation Fair Competitive Practices Act of 1978, which ensures competition between air carriers in a foreign market is not unjustifiably or unreasonably restricted or harmed.
As early as last September, the carrier had asked for two slots previously held by Russian airline Aeroflot, beginning in the summer 2023 travel season.
"These slots, if allocated to JetBlue, would support one daily, roundtrip flight between Amsterdam and JFK/Boston using environmentally friendly Airbus A321LR aircraft, which are quieter and lower-emitting than the vast majority of aircraft serving Amsterdam today," the airline writes. A week after the request, ACNL denied it.
Then, in October, JetBlue requested slots from codeshare and interline partner airlines which already serve Amsterdam. This idea, too, was shot down by ACNL, which responded that "such usage would only be permitted if JetBlue were engaged in 'joint operations' with the other carrier party, involving a revenue sharing joint venture or a blocked spaced arrangement", the airline says.
JetBlue charges this is "inconsistent" with IATA's Worldwide Airport Slot Guidelines (WASG), "and blatantly discriminates against low-cost carrier business model choices and other airlines that elect not to be part of an international immunised alliance".
"More recently, ACNL denied JetBlue's request that slots, available because of Flybe's cessation of operations, be reallocated to JetBlue, even on a temporary ad-hoc basis," JetBlue writes in the complaint. The slot administrator then informed JetBlue earlier this month that this capacity could remain unused for as long as a year, likely pending the outcome of Flybe's bankruptcy administration process, the airline adds.
JetBlue says that it also "has sought repeatedly to discuss this situation with representatives of the government of the Netherlands, in an attempt to find a workable solution". While one meeting with the responsible ministry did take place in mid-January, "JetBlue is no closer to securing slots…today than it was before that meeting".
"Allowing the status quo to continue has a discriminatory impact on JetBlue and any other US carrier seeking to launch new service to Amsterdam," JetBlue says.
The last resort, JetBlue says, is for the US government to intervene, and require Dutch flag carrier KLM to give up some of its slots to facilitate JetBlue's entry into the US-Amsterdam market with two daily round-trip flights. The carrier is asking for those slot pairs at "commercially-viable times".
JetBlue began transatlantic service in August 2021 with the London flights, and now flies from Kennedy and Logan to both London Gatwick and London Heathrow airports using Airbus A321LRs, which have 4,000nm (7,408km) of range.
Last November, the carrier said it would be launching flights from JFK to Paris' Charles de Gaulle airport in summer 2023, followed by flights from Boston to Paris. Those flights would be the airline's first to continental Europe.