JetBlue Airways will begin flights from Boston to both London Gatwick and London Heathrow airports this summer, a move that will expand the airline's transatlantic network beyond its New York base.
JetBlue will begin Boston-Gatwick flights on 19 July, followed on 22 August with the start of Boston-Heathrow flights, the airline says on 5 April.
Nearly three years ago, on 10 April 2019, JetBlue announced its British invasion. The carrier began New York-London flights in 2021, but the status of Boston-London flights remained in flux, subject to slot availability and the worldwide pandemic.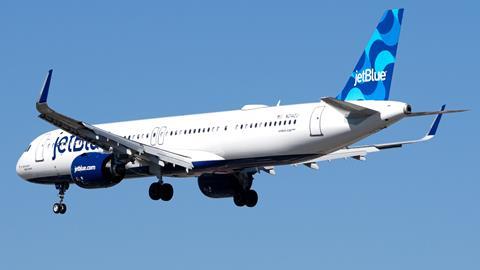 As with its JFK-London flights, JetBlue will fly Airbus A321LRs from Boston to London. Those jets will have JetBlue's "Airspace" cabins, with 24 lie-flat "Mint" seats and 114 economy seats.
As to be expected, JetBlue's pricing for the Boston-London flights is aggressive. Boston-originating fares to Gatwick start at $499 round-trip in economy, and $1,949 for Mint. JetBlue is charging $50 more to Heathrow.
JetBlue has long maintained London is the largest market the airline did not serve from Boston, where JetBlue has a unique operation that attracts a greater mix of business travellers. JetBlue is the leading carrier in Boston by virtually every metric – routes, seats, capacity and flights.
The disruptive low-cost carrier enters a crowded, competitive field with its low-density narrowbody transatlantic fleet. British Airways has the most capacity between Boston and London, Cirium data shows.
Behemoths Delta Air Lines, United Airlines and American Airlines also connect the cities, and United and American are also inaugurating new Boston-London flights this summer to meet an expected surge in bookings for European travel.