JetBlue Airways has extended its daily flights between New York and London Heathrow airport through October 2022 after securing the required take-off and landing slots.
The New York-based carrier says on 21 December that the flights between John F Kennedy International and Heathrow will be operated through the traditionally busy summer travel season in the northern hemisphere. The carrier hopes to take advantage of pent-up demand for transatlantic travel.
The flights, which launched on 11 August this year, are now scheduled to run once daily until 31 October 2022.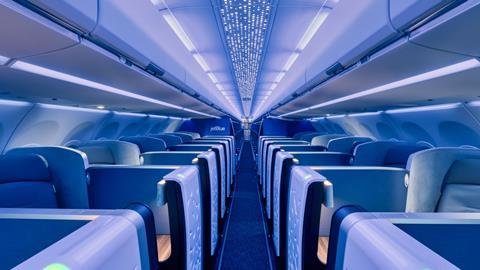 The airline had acquired temporary slots at Heathrow this past year after larger airlines reduced flights due to the Covid-19 pandemic. The airline says it now has been able to secure the slots to maintain the route through October 2022.
"The response on both sides of the Atlantic has been overwhelmingly positive," says chief executive Robin Hayes. "We are committed to collaborating with regulators as well as the US and UK governments to identify a pathway to staying at Heathrow for the long-term. There's so much more good we can do as we grow this route if we are allowed to stay and compete."
JetBlue operates the route using Airbus A321LRs equipped with a revamped "Mint" premium class that includes lie-flat seats. The carrier took delivery of its first A321LR in April, and now has three flying, with more to come next year. The airline also holds orders for A321XLRs – an aircraft that could easily connect New York or Boston to the European continent.
The airline will continue to operate daily service between John F Kennedy airport and London's Gatwick airport also, and it says it "remains committed to launching service" between Boston's Logan International Airport and London next year as well.