Oneworld carrier British Airways is to begin a codeshare with SkyTeam operator Kenya Airways, after the recent resumption of flights between London and Nairobi.
Under the agreement, the UK carrier will add its code to Kenya Airways' flights from Nairobi connecting to 20 African destinations. The Kenyan carrier will in turn add its code onto BA lights from London Heathrow to 26 UK and European points.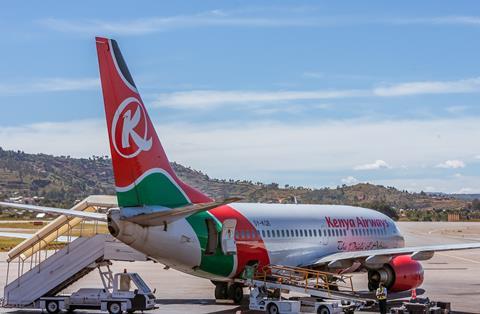 The codeshare comes after BA in September resumed flights from London to Nairobi. Kenya Airways had restarted services on the route earlier this summer after Kenya lifted international travel restrictions in place to counter Covid.
BA's head of alliances Christopher Fordyce says: "After a difficult 20 months with global travel restrictions, it's fantastic to see travel between the UK and Africa resuming. We are really pleased to be able to offer our customers access to even more destinations across the region thanks to our new codeshare agreement with Kenya Airways."
In Africa BA has a long-standing partnership with South African operator Comair, which operates franchise flights for the UK operator.
Kenya Airways is a member of SkyTeam has a wide-ranging codeshare in place with Air France-KLM. While a joint venture partnership with the Dutch carrier, which is a minority shareholder in Kenya Airways, ended last year, the two carriers continue to codeshare.
The Kenyan airline also codeshared with fellow SkyTeam member Alitalia, prior to the Italian flag carrier ceasing operations earlier this month. Italian successor carrier ITA AIrways has indicated its intent to join SkyTeam and to codeshare with some of its partners.
Kenya Airways chief commercial and customer officer Julius Thairu, says: "The agreement will increase choices for thousands of passengers and will allow for smooth connectivity to a significant number of new destinations – particularly throughout Africa and Europe."