More than 70 airlines are at various stages of trialling the IATA Travel Pass, the mobile application developed to help smooth the processing of passengers' travel health credentials.
IATA developed the Travel Pass to help digitally manage the verification of passengers' Covid test and vaccine status, in an effort to minimise additional processing time given the added health criteria requirements needed for travel since the pandemic.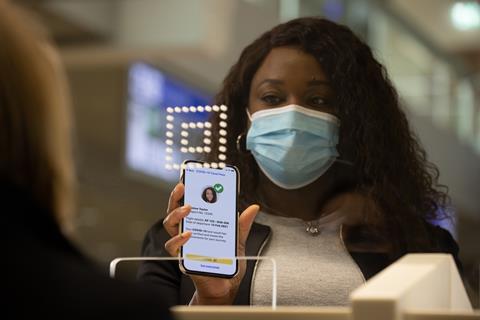 In March, the first passengers on a commercial flight were processed using the IATA Travel Pass, on a Singapore Airlines service to London Heathrow, and a string of airlines have since begun trials.
Speaking at an IATA media briefing on 7 July, IATA vice-president operations, safety and security, Nick Careen, said: "We have 74 airlines that are trialling it at various stages. Some are in the middle of the trial, some are just starting them, some are expanding them." The trials cover around 170 routes.
Careen would not be drawn on when the Travel Pass will formally be launched with an airline. "We are in the process of negotiations with one major carrier which will see the expansion of the Travel Pass, and there are number of others in the background waiting to do the same. We are very close to a more widespread unveiling of it in one particular airline's network, and others to come."
Much of the initial focus of the trials was based around capturing Covid test data, but Careen says there is also now a focus on digitally managing vaccination status as well.
"We are running a trial now with Qatar Airways to be able to utilise a QR code from vaccinations in that country to test the functionality. That is a continued work effort.
"It will run for about four weeks and we are looking and working with other airlines to extend this beyond the Qatar examples," he adds.