Etihad Airways Group chief executive Tony Douglas believes that network planning has changed forever as a result of the pandemic, as the restructured Gulf carrier is itself embarking on seasonal routes it would not have previously considered.
The restructured Abu Dhabi carrier has today disclosed it will in June begin seasonal flights to the French resort city of Nice. It will serve the route twice-weekly using Boeing 787s.
Etihad has already announced plans to serve Crete and Santorini this summer, along with returning seasonal destinations of Malaga and Zanzibar which it flew last year. All five routes begin in mid-June.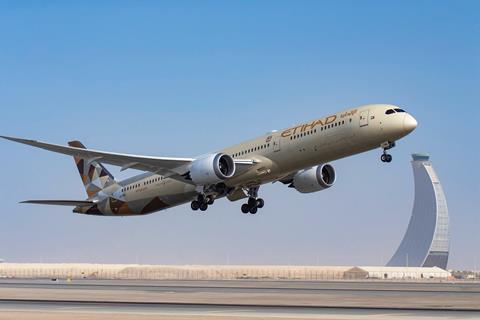 "I think the world of network planning for us is unlikely to ever go back to the way it used to be," Douglas told FlightGlobal as part of a wide-ranging interview in Abu Dhabi earlier this month. "I think it has put into the muscle memory of mid-sized carriers, more agile carriers like us, the agility of how you accommodate things that are going to change.
"We did things last year, and we're in the process of announcing now, what we would have never done pre-pandemic. And that is almost like a charter carrier – and we're clearly a network operator – to introduce summer and winter destinations.
"These are tactical calls, because the market for a particular period of time, there is demand," he adds.
Etihad has been through a major restructuring and has redefined itself as a smaller mid-size carrier.
"Whereas in the past, we would have held fast on a year-round destination that frankly, could only make money for four months of the year," he says, citing Dallas and San Francisco as examples. "They were wonderful headlines, but commercially, they just didn't make sense for Etihad.
"So, we are clearly driven by financial sustainability," Douglas adds.