Restructured low-cost carrier Norwegian is to set to operate 54 routes from Stockholm Arlanda this summer after it reopens its base at the Swedish airport for the first time since the pandemic.
Norwegian has been through a major retrenchment, axed its long-haul flights and was operating in what it termed "hibernation mode" for a year after the pandemic hit. It is gradually rebuilding its capacity and has previously said it plans to operate 270 routes this summer.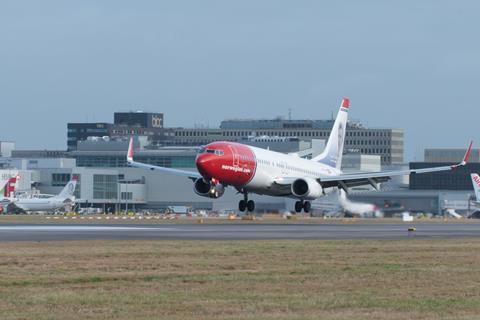 Arlanda airport operator Swedavia says Norwegian is planning to operate 54 routes from the Swedish capital this summer. The airline has this month been serving 15 routes from Arlanda, including three domestic services.
Cirium schedules data shows Norwegian operated 73 routes from Arlanda in June 2019, including links to five long-haul destinations.
During Norwegian's restructuring, Irish low-cost carrier Ryanair this winter moved to open a base at Arlanda, while Finnair also launched a number of long-haul routes from the Swedish airport. Lufthansa low-cost unit Eurowings, meanwhile, will open a base at Arlanda in March, initially stationing five Airbus A320s.
Norwegian in the winter struck letters of intent to lease 13 Boeing 737-800s and for a pair of 737 Max aircraft for the summer – having removed the latter type from its fleet during its restructuring. Norwegian, which flew just under 6.2 million passengers in 2021, has previously said it expects its fleet to be in the range of 67-70 jets by summer 2022. It also flags it has options to switch its incoming 737-800s for either 737 Max or Airbus A320neo aircraft.
A post on the carrier's intranet obtained by FlightGlobal show that Norwegian executives – including CEO Geir Karlsen, EVP of operations Adrian Dunne, and Tore Jenssen, SVP of in-house lessor Arctic Aviation Assets – recently met with an Airbus sales and product team. The carrier describes it as "a productive initial meeting".
Arlanda airport handled 7.5 million passengers in 2021. While that marked a 15% increase on the pandemic-hit 2020, it was still 70% down on 2019.