Aeroports de Paris is projecting passenger traffic levels at the French capital will not return to last year's high until the 2024-27 timeframe.
Augustin de Romanet, chief executive of Groupe ADP, outlined the outlook for a slow return to traffic at Paris after disclosing a group first-half net loss of €543 million ($637 million).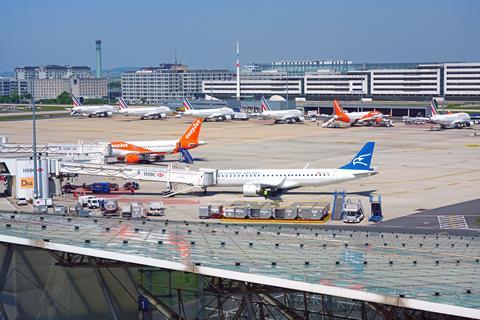 That reflects a 62% fall in passenger numbers across Charles de Gaulle and Orly airports to 19.8 million. Orly, which was closed from the start of April because of the crisis, only reopened for commercial flights on 26 June.
Traffic across the wider group, including its interest at international airports, was down 58% to 48.2 million over the first six months of the year.
"The months of April and May saw almost no traffic and the recovery in traffic was slow in June and July," says de Romanet.
"This is the first time in 50 years that air traffic has experienced a downturn this abrupt and it is established that the recovery will be very gradual."
The group projects a return to 2019 Paris traffic levels between 2024 and 2027. The two Paris airports handled over 108 million passengers in 2019. That includes 76.2 million at Charles de Gaulle – making it the ninth biggest airport in the world by passenger numbers – and 31.9 million at Orly.
ADP, though, does see traffic returning at a faster rate across its international interests. It believes traffic could return to 2019 levels across those airports between 2021 and 2023.
The group's international interests now also include a 49% shareholding in Indian airports group GMR, a deal completed earlier this month.
"The impact of the decline in activity on the group's annual results for 2020 cannot be precisely assessed at this stage given the uncertainty of the conditions and timetable for a return to normal traffic in the various geographical areas," the airport operator adds.
"Groupe ADP considered a sensitivity analysis based on a decline in traffic at Paris Aéroport and on other platforms operated by Airport International Group and TAV Airports between around -55% and -65% between the months of April and December 2020," it says. Under these conditions, the group says this indicates an impact on its consolidated revenue of around €2 billion to €2.5 billion.
"This crisis brings structural economic effects on air transport with a persistent public health threat," says de Romanet. "In this new operational and financial environment, Groupe ADP is going to review its strategic orientations in order to provide the company with the capacity to return to profitable and sustainable growth."
Reuters reports that French transport minister Jean-Baptiste Djebbari – speaking today on Europe 1 Radio – indicated the government will reconsider the plans for a fourth terminal at Charles de Gaulle. "The project to receive 40 million more passengers by 2030 is probably no longer justified as it was planned," he is quoted as saying.
ADP has proposed beginning construction work on the project in 2022. A public inquiry on the new terminal has been set for October, while a note on ADP's website says it has reassessed the project schedule and that technical studies are now planned for 2021, with work starting in 2022, and commissioning expected between 2029 and 2033.