Ryanair carried 1.8 million passengers in May, its highest amount since December but still well down on the 14 million it flew in the corresponding month before the crisis.
The budget operator's 1.8 million passenger in May compares with the 1 million it carried in April as the first easings in UK travel restrictions were implemented.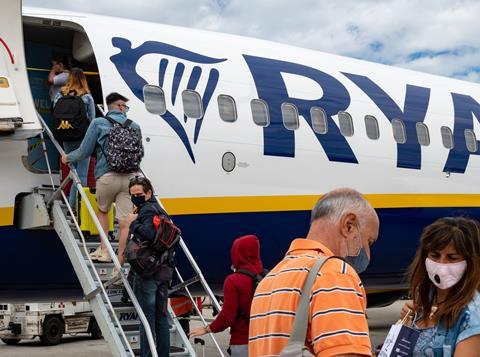 Ryanair's higher passenger level was driven by a 50% increase in flights flown to 12,000, and notably a 12 percentage point improvement in its load factor to 79%. That figure is seven percentage points higher than the 72% load factor it has recorded across the past year.
It marks Ryanair's strongest traffic month since it carried 1.9 million passengers in December and load factors were six percentage points higher than that month.
Direct comparison with May 2020 is distorted as Ryanair flights were all but grounded, but the carrier in May 2019 flew 14.1 million passengers before the pandemic hit.
The Irish carrier has been hopeful of travel restrictions being eased in Europe in time for the key summer peak season and has guided overall passenger levels for its financial year to March 2022 at the lower end of its 80-120 million guidance range.
Ryanair, together with low-cost rival Wizz Air, are the first European carriers to report monthly traffic figures.
Wizz few 833,000 passengers in May at a load factor of 66%, an improvement on the 565,000 it flew in April. It is though still sharply down on the 3.5 million it flew in May 2019.