Southwest Airlines, the world's top Boeing 737 operator, is set to return the 737 Max into its network and schedule, operating several revenue flights on the type for the first time in two years.
The Dallas-headquartered airline says on 10 March that it will restart operations with the type on "multiple routes" on 11 March. These flights will departing "at or around the same time" on that date, and the airline has no plans to celebrate its first post-grounding flight as other carriers have done.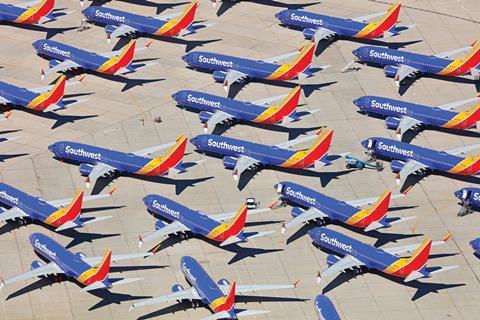 "After conducting more than 200 737 Max 8 readiness flights since December without customers on board, Southwest Airlines will return the aircraft to service on March 11," the airline tells FlightGlobal. "Initially, the aircraft will operate up to 44 daily flights to 15 cities. By mid-April, the airplane will resume operations throughout Southwest's network."
The carrier's Max fleet has been in storage for almost two years after the Federal Aviation Administration grounded the type following two crashes in 2018 and 2019 that killed 346 people.
The FAA re-certificated the aircraft in November after Boeing made several software and design changes.
Southwest becomes the 14th airline to return the Max to its fleet. The first post-grounding Max flight was conducted by Brazil's Gol in early December. Aeromexico, American Airlines and Copa Airlines followed with their first post-grounding Max flights the same month. As of early March, the in-service fleet worldwide has passed 100 aircraft.
So far, the narrowbody type has been re-certificated in numerous jurisdictions in the Americas, Europe and the Middle East, but has not yet received approval Asia.
Southwest says it ended 2020 with 718 aircraft in its fleet, including 41 737 Max. It expects to end this year with 69 of the type.