Indian low-cost carrier SpiceJet has secured landing slots at London Heathrow Airport, effective 1 September.
The slots fall under the "bubble arrangement" between India and the UK, and are effective until 23 October, says SpiceJet.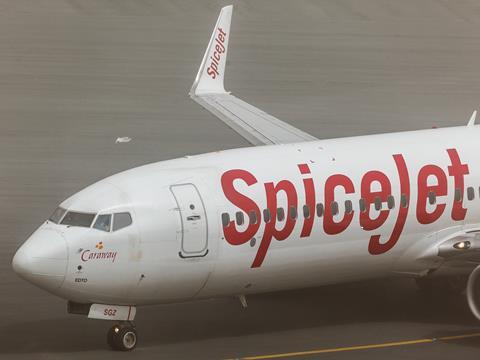 The carrier adds that the slots will remain effective when regular operations resume, and that it is in discussions to secure slots for the winter schedule.
Amid the coronavirus pandemic New Delhi has suspended all international flights until 31 August, apart from a small number of flights that fall under "travel bubbles" formed with select countries.
"I am pleased and excited to share that SpiceJet has secured slots at London Heathrow Airport to operate flights effective September 1, 2020," says SpiceJet chairman and managing director Ajay Singh.
"London is one of the busiest long-haul destinations from India and this is a huge milestone for SpiceJet. Providing non-stop connectivity from India to different parts of the world, which in turn strengthens our own airport hubs, is a dream that we have long cherished and this is a small step in that direction. The identical arrival/departure slots that we have secured at Heathrow should suit the convenience of our passengers perfectly."
The airline did not say when it plans to launch actual UK flights. It also has yet to state the aircraft it will use for long-haul services. The slot is daily, for a 15:30 arrival and 17:30 departure.
Cirium fleets data shows that the airline has 74 in service Boeing 737NGs and De Havilland Canada Dash-8 Q400s. It also has another 37 aircraft in storage, of which 13 are Boeing 737 Max aircraft, grounded since March 2019. It also has an orderbook for 155 additional 737 Maxes.
In late July, the airline announced that it had received "designated carrier status for scheduled service to both the USA and the UK. Attaining slots at Heathrow is a critical next step for the airline's ambitions.
The news follows the 30 July announcement of weak results for its latest fiscal year. For the 12 months ended 31 March the airline net loss widened to Rs9.35 billion ($125 million), from a net loss of Rs3.16 billion a year earlier. This despite total income rising 29.9% to Rs132 billion.
Updated with timing of the slot.