London Gatwick airport will reopen its South Terminal in late March, after almost two years of dormancy due to the sharp drop in traffic caused by the pandemic.
Flights have been operating solely out of Gatwick's North Terminal since 15 June 2020 in a bid to save costs. Services had sharply contracted from March that year after widespread travel restrictions brought international passenger flights to a virtual halt.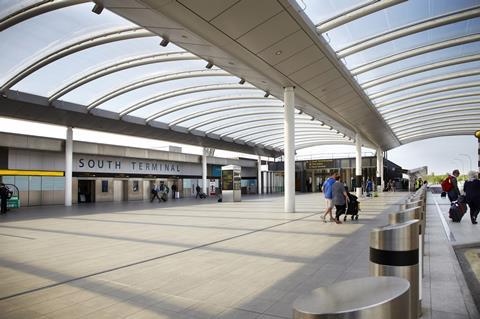 Gatwick has been particularly hard hit by the crisis as tight travel restrictions remained in place in the UK for much of last year, while British Airways and Virgin Atlantic consolidated their activities at Heathrow in the aftermath of the crisis. Passenger levels in 2020 dropped to almost a quarter of the 40 million handled before the crisis, and remained 70% down on 2019 levels at 3.1 million in the fourth quarter of last year .
Gatwick now plans to restore operations from the South Terminal from 27 March in time for the start of the summer season, buoyed by the easing in travel restrictions and a number of airlines outlining plans to restore activities.
Notably British Airways, which has not operated short-haul European flights at Gatwick since the crisis, will restart its short-haul flights from 29 March with 35 European routes added. These services will ultimately be operated by a new low-cost subsidiary.
Existing low-cost cost carriers at Gatwick, which have developed extensive short-haul networks from the airport, are also expanding this summer.
The airport's biggest carrier EasyJet expects to return to pre-crisis capacity across its network during the summer peak season, and Cirium schedules data shows the carrier's third-quarter capacity from Gatwick will outstrip this same period in 2019.
Budget operator Wizz Air, which established a base at Gatwick in 2020, is adding a further four Airbus A321neos to the airport this summer after acquiring slots from restructuring Norwegian – which has sharply cut its presence at the site, including ending long-haul flights. Another IAG carrier, Spanish low-cost operator Vueling, has also just announced five new short-haul routes from the airport.
Gatwick airport chief executive Stewart Wingate says: "Following some major announcements from our airlines about significantly increased flying schedules, and from Government on removing travel restrictions and airport slot regulations, we can now look forward to once again operating a busy Gatwick this summer and beyond.
"It may however take time for consumer confidence to fully recover, so I urge the government to make 2022 the year when all travel restrictions are removed, including the unpopular passenger locator form, and other remaining barriers to free travel."