Expanding Central European carrier Wizz AIr has been forced to put plans to launch its first Russian base on hold as a result of fresh travel restrictions.
In June Wizz announced plans to this month open a base at St Petersburg's Pulkovo airport, one of a series new base announcements it has made since the initial round of Covid-related border restrictions were lifted.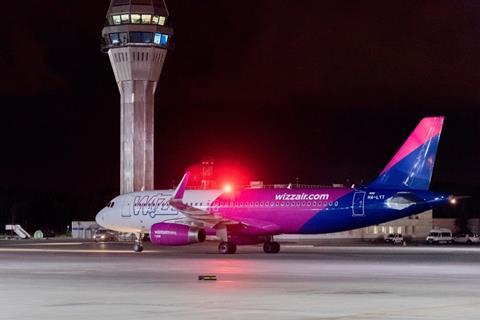 Wizz had planned to mark the new base by opening five new routes - connections to the Italian airports of Bergamo airport near Milan and Venice Treviso, as well as Copenhagen, Malta and Salzburg.
But a statement from the airline on the airport's website says it has postponed the launch of its base as a result of travel restrictions. It has postponed the launch of the five new routes until 3 December.
The carrier also in December plans to add flights from St Petersburg to two more Italian cities - Bologna and Turin - and the Scandinavian capitals of Oslo and Stockholm.
Wizz had hoped to lift its total capacity to around 80% of planned levels in the last quarter of the calendar year. But in an operational update at the start of September, noting renewed travel restrictions being implemented across Europe, it said it expects capacity will remain at about 60% for the quarter.