International passengers travelling to the UK will soon be required to present a negative Covid-19 test result prior to departure, under tighter restrictions announced today by the government.
From next week, travellers from all international destinations must take a test up to 72h before departing for England and present a negative result prior to boarding. Scotland's government says it will implement the same rule "as soon as practically possible", and Wales and Northern Ireland appear likely to follow suit.
The testing requirement is in addition to the 10-day quarantine period for passengers arriving from countries that are not on the UK's travel-corridor list.
"Passengers arriving into England from a country on the travel-corridor list, who have successfully demonstrated a negative result prior to departure from a country not on the travel-corridor list, will still have the option to reduce the self-isolation period from 10 to as little as five days by paying for a test through the Test to Release scheme," says the UK Department for Transport.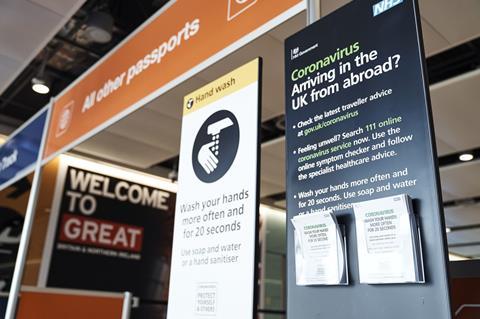 The government does not specify the exact date from which the new rules will apply. Spot checks will be carried out by the UK Border Force, and passengers who do not comply face a £500 ($680) fine. Exemptions will include children under the age of 11, crews, and those travelling from countries "without the infrastructure available to deliver the tests", although these countries are not specified.
"Taken together with the existing mandatory self-isolation period for passengers returning from high-risk countries, pre-departure tests will provide a further line of defence," states UK transport secretary Grant Shapps.
London Heathrow chief executive John Holland-Kaye has welcomed the new restrictions and reiterated calls for a common international Covid-19 testing standard for travel.
"Having called for the introduction of pre-departure testing since last April, we support this development which ensures passengers can continue to travel safely," states Holland-Kaye. "The government must now prioritise the creation of a common international standard for testing that would introduce a global process to protect confidence in future travel."
Airlines UK chief executive Tim Alderslade argues that pre-departure testing "should be a short-term, emergency measure only" while coronavirus vaccinations are rolled out.
After this, he adds, "the focus must be on returning travel to normal as quickly as possible in order to support the UK's economic recovery. This includes removing the need to quarantine or test as the UK population is vaccinated and the virus is brought under control at home and abroad."
The UK government says it is introducing the measure "to help protect against new strains of coronavirus circulating internationally". The country's own infection rates have been rising rapidly as a result of a new, more easily transmissible Covid-19 variant that was discovered in the UK.
A different variant of the virus has also been discovered in South Africa, prompting an earlier ban on direct flights to the UK from that country. The government has now extended that ban to include travellers to England who have visited the southern African countries of Namibia, Zimbabwe, Botswana, Eswatini, Zambia, Malawi, Lesotho, Mozambique and Angola – as well as the Seychelles and Mauritius – in the last 10 days. The ban does not apply to British or Irish nationals or permanent residents, although they will be required to self-isolate on arrival.
Botswana, the Seychelles and Mauritius, along with Israel and Jerusalem, are the latest territories to be removed from the UK government's travel-corridor list.