European leisure group TUI expects its summer 2022 demand to be close to pre-crisis levels as the Covid-19 recovery gathers momentum in key markets.
Speaking during a quarterly results briefing on 8 February, TUI chief executive Friedrich Joussen said that while a "bookings valley" had been created towards the end of 2021 by the spread of the Omicron variant of Covid-19, the situation had improved significantly in recent weeks.
"Bookings are tremendously catching up and… last week [we were at] 100% of pre-crisis levels when it comes to bookings for summer [compared with bookings in the same week in 2019]," Joussen says. "And 100% might not be the ceiling of development."
The company expects relatively late summer 2022 bookings compared with pre-crisis trends, he states, which should drive overall summer demand "close to the pre-crisis levels" as travellers regain the confidence to take holidays amid a relaxation of border restrictions.
Overall summer bookings are currently 28% below 2019 levels, with prices some 22% higher, the TUI chief notes.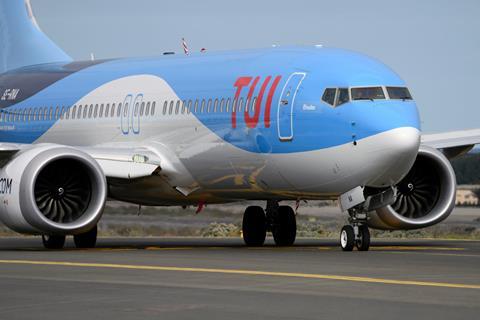 In the meantime, with capacity during the current winter season moderated at 67% of pre-Covid levels, "margins [are] good, load factors [are] good, and catching up with demand is the theme", he states.
In financial terms, the performance of TUI's Markets & Airlines business in the group's fiscal first quarter – covering the three months ending 31 December 2021 – benefited from a "more open travel environment" compared with 2020, including late-summer momentum in October.
The unit reported an underlying EBIT loss of €259 million ($295 million), compared with a loss of €423 million in the same period of 2020. It reported a loss of €198 million in the last equivalent pre-Covid quarter, in what is seasonally a slow period for the group even in 'normal' times.
TUI says its airlines handled 2.3 million customers during the quarter, compared with 3.6 million pre-crisis but up from just 600,000 in the same quarter of 2020.
The group continues to highlight the Markets & Airlines unit as the main driver of TUI's overall cost-saving initiative, which was launched in May 2020.
Notably, TUI says that the restructuring of its German airline TUIfly's fleet "has progressed and we envisage to conclude the fleet reduction of 17 aircraft by end of the second quarter of FY22", which will represent a 50% reduction in the carrier's aircraft roster.
The Global Realignment Programme targets group-wide savings of more than €400 million per year by its 2023 fiscal year. TUI notes that in the financial year ending September 2021, around 60% of those savings had been delivered, with the Markets & Airlines division accounting for 85% of the total.
Those savings are being achieved, TUI says, "by merging tasks and functions across the group, as well as consolidating our global IT structures" and "rightsizing our airlines and aircraft order book".
TUI has also been working to consolidate its departure airports, while seeking to divest or restructure "non-profitable activities" from its Markets & Airlines segment.
For the whole business – which includes hotel, cruise and experience units – TUI reported a first-quarter loss of €271 million on revenue of €2.4 billion. The latter figure represents a huge rise from its year-ago level of €468 million at the height of the Covid-19 crisis, but a significant drop from the €3.85 billion income it reported for the same period two years ago. Nevertheless, even in the pre-Covid period, TUI reported an EBIT loss of €78 million.
TUI cites a "strong liquidity position" of €3.3 billion as of 3 February 2022, adding that on 1 April it intends to repay around €700 million of the almost €5 billion in state aid it has received during the pandemic.