United Airlines will expand its codeshare agreement with Singapore Airlines to include routes to 19 additional cities in the USA and Asia-Pacific region.
The Chicago-based carrier says on 25 April that beginning this week United's customers will be able to connect to nine new codeshare destinations on SIA flights. These include Brunei's capital Bandar Seri Begawan, Siem Reap in Cambodia, Kuala Lumpur and Penang in Malaysia, Denpasar, Jakarta and Surabaya in Indonesia, Male in the Madives, and Perth.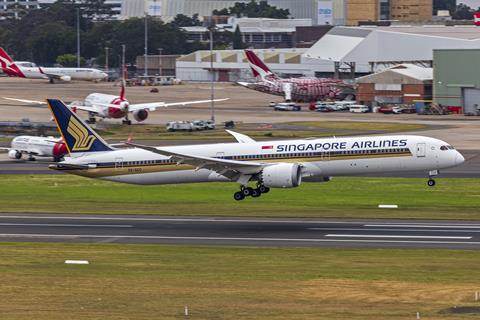 "United continues to provide critical links to Asia and we are the only US airline flying direct to Singapore from the US, with our nonstop San Francisco–Singapore flight," says Patrick Quayle, United's senior vice- president of international network and alliances. "We are excited to further expand our partnership with Singapore Airlines and provide our customers greater convenience and access to world-class destinations in the region."
In return, Singapore Airlines customers can connect on United flights from Los Angeles to the US cities of Austin, Baltimore, Boise, Cleveland, Denver, Honolulu, Las Vegas, Phoenix, Reno and Sacramento. That is in addition to the current codeshares available on United flights from Houston to Atlanta, Austin, Dallas/Ft. Worth, Ft Lauderdale, Miami, New Orleans, Orlando and Tampa.
Earlier in the day, Singapore dropped onerous Covid-19 testing policies for passengers, as the country's focus shifts to passengers' vaccination status.
From 26 April, visitors to Singapore no longer must take pre-departure Covid-19 tests before flying to the city-state. The move was announced last week by the country's Covid-19 task force.
The decision adds to other recent changes that will make Singapore perhaps the easiest Southeast Asian destination to visit, as the region sheds travel restrictions related to the coronavirus pandemic.