United Airlines will reduce capacity by half in April and May and has cut executive officers' salaries 50% in response to a pandemic United's executives say makes operating an airline "nearly impossible".
"When medical experts say that our health and safety depends on people staying home and practicing social distancing, it's nearly impossible to run" an airline, United's two top executives said in a 15 March letter to employees.
The letter from chief executive Oscar Munoz and president Scott Kirby disclosed the airline's plan to cut capacity "approximately" 50% in the next two months – cuts more drastic than previously disclosed by US carriers.
United operated 777 aircraft at the end of 2019 and carried 162 million passengers that year, according to securities filings.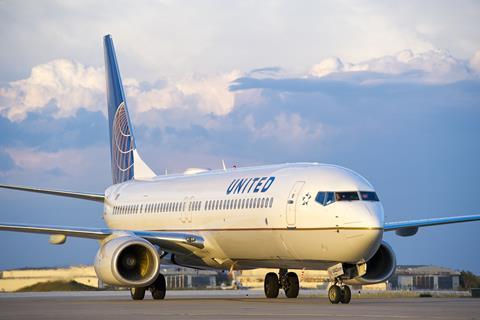 "We also now expect these deep cuts to extend into the summer travel period," says the letter. "Even with those cuts, we're expecting load factors to drop into the 20-30% range – and that's if things don't get worse."
The news came shortly after the US Centers for Disease Control and Prevention recommended that, for eight weeks, gatherings of 50 or more people be cancelled or postponed.
"Large events and mass gatherings can contribute to the spread of COVID-19 in the United States via travellers who attend these events and introduce the virus to new communities," says the CDC's guidance, which does not mention air travel.
The letter from Munoz and Kirby to employees says United's corporate officers were notified on 15 March that their salaries will be cut 50%.
"The bad news is that it's getting worse. We expect both the number of customers and revenue to decline sharply in the days and weeks ahead," the letter adds.
United has also started talking to employee groups about cutting payroll costs.
"This weekend, we began conversations with our union leadership about how to reduce our payroll expense in a way that minimises what we know will be painful for all of us," says the letter.
Also on 15 March, Hawaiian Airlines said it will suspend flights from Honolulu to Austrialia and New Zealand starting this month. The airline cites those countries' decisions to impose a 14-day "self-isolation entry requirement" on arriving travellers.
Hawaiian flies five-times weekly to Sydney and three-times weekly to both Brisbane and Auckland.
United, like airlines globally, had previously announced capacity cuts in response to the coronavirus outbreak, which has left US schools and businesses, like those in many other countries, shuttered.
United had already slashed transpacific and transatlantic capacity, and had previously planned to cut domestic capacity 20% in April and May.
Likewise, Delta Air Lines has said it will ground 300 aircraft – about one-third its fleet – and American Airlines says it will cut 75% of its international capacity.