US airlines have begun pre-emptively cancelling thousands of flights ahead of a harsh winter storm expected to dump up to 71cm (28in) of snow in some regions in the northeastern USA over the weekend.
By 530pm Eastern time on 28 January, United Airlines, Delta Air Lines, American Airlines, Alaska Airlines - including their regional affiliates - as well as JetBlue Airways, Spirit Airlines, Frontier Airlines and Southwest Airlines have collectively cancelled more than 2,200 connections.
New York-based JetBlue has so far cancelled 50% of its schedule for Saturday, or 418 connections, according to flight tracking website FlightAware.com.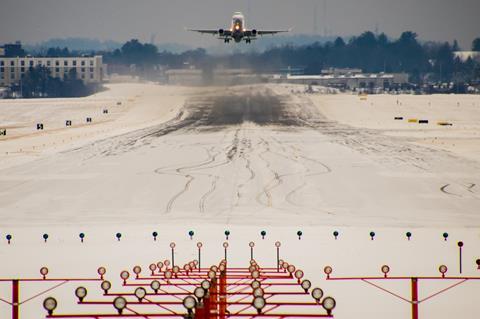 "In preparation for this weekend's winter storm in the Northeast, we have cancelled approximately 650 flights through Sunday," JetBlue says. The airline adds that it's rescheduling passengers and refunding fares. "Customers should continue to monitor the status of their flights, as there is a possibility of additional cancellations based on the storm's severity and path."
American Airlines has so far cancelled 450 flights, or 17% of its schedule on 29 January, while United has cancelled 393 flights, or 22%, FlightAware data show.
"This weekend's winter storm is expected to have a significant impact on our Northeast operation, especially in Boston, New York and Philadelphia," Fort Worth-based American says. "The vast majority of impacted flights have been cancelled in advance so we could pro-actively notify and accommodate our customers and avoid last-minute disruptions at the airport."
Philadelphia is a major hub airport for American, from which most of its Europe-bound flights depart.
American adds that its travel notice - allowing customers to rebook without extra fees - covers airports in seventeen states in the eastern USA from South Carolina in the south, to Maine, on the Canadian border, in the north. Several jurisdictions in the storm's path have declared emergencies and imposed restrictions on ground travel during what is expected to be white-out conditions with high winds, in addition to coastal flooding.
Chicago-headquared United adds that it has already cancelled more than 650 flights scheduled in the coming days.
The inclement weather is hitting airlines at a time when they had just began to recover their schedules following Covid-related disruptions over the end-of-year holiday travel season. Alaska Airlines said earlier this week that cancellations due to crew illness and winter weather during that busy travel period shaved $70 million off its fourth quarter earnings.