Delta Air Lines partners Virgin Atlantic and LATAM Airlines are to begin codesharing on flights between and beyond London and Sao Paulo.
US carrier Delta has partnerships and investments in place with both carriers and in December further commited to them as part of recapitalisation plans under which it would retain its 49% stake in Virgin and hold a roughly 10% share of LATAM Airlines.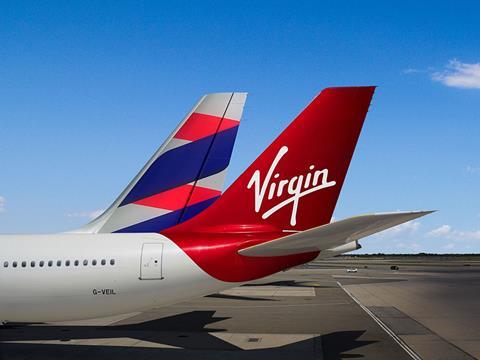 Under the co-operation, Virgin will add its code to LATAM's flights between London Heathrow and Sao Paulo, as well as its flights to a dozen domestic airports in Brazil. LATAM will add its code to Virgin flights, notably to Delhi, Hong Kong and Tel Aviv.
Juha Jarvinen, chief commercial officer at Virgin Atlantic, says: "As we recover from the pandemic, partnerships are more important than ever, and we look forward to building on the incredibly successful interline relationship we have had in place for a number of years.
"We also see opportunities beyond Brazil and look forward to expanding our relationship even further to serve destinations throughout South America including Peru and Colombia.
"This new partnership aims to respond to the large, fast-growing demand for leisure travellers looking to enjoy new experiences after a challenging 20 months. We know there is pent-up demand for long-haul travel."
LATAM had been a long-term partner of British Airways and Oneworld until the South American carrier's joint venture plans with BA were blocked by regulators. It subsequently unveiled joint venture and investment plans with Delta.