New SkyTeam member Virgin Atlantic will begin a codeshare with fellow alliance partner Korean Air from 25 March.
The UK carrier will initially codeshare with Korean on the London Heathrow-Seoul route, but the partnership will be expanded from June to enable Virgin to add its code to onward Korean connections to destinations across Japan, Vietnam, Hong Kong, Australia and New Zealand.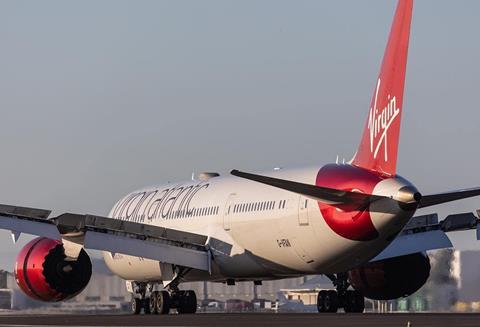 Virgin formally joined SkyTeam on 2 March. The airline's chief commercial officer Juha Jarvinen says of the Korean codeshare that "Virgin Atlantic customers can benefit from its extensive route network, that will offer more choice throughout Asia and Australasia".
The airline describes the codeshare as a "first step towards Virgin Atlantic's entry to Seoul". Virgin is set ultimately to begin its own services on the route after being granted access to it, with support from Korean Air, as part of the latter's framework agreement to obtain UK competition clearance for its merger with Asiana. Launch of its own London-Seoul route is though conditional on the reopening of Russian airspace for overflight purposes.
The codeshare marks a revamp of Virgin's Asia network and presence. The airline in May will relaunch flights to Shanghai – the last of the routes it served prior to the pandemic that it is restoring. That will join Mumbai and Delhi in its Asian network. Virgin though will this summer end flights to Islamabad and Lahore, which it has been serving since late 2020, and is not restoring its pre-pandemic route to Hong Kong.