Wizz Air has acquired 15 daily slot pairs at London Gatwick airport from Norwegian Air Shuttle, as carriers jostle for position at the UK facility.
Wizz will base four additional Airbus A321neos at Gatwick from spring 2022, it says on 22 December, bringing to five the number of aircraft it bases at the facility.
The low-cost carrier opened a base at Gatwick in October 2020, complementing its main UK home at London Luton and a small base at Doncaster Sheffield airport.
"Acquiring airport slots at Gatwick airport will enable us to enhance our presence and competitive position in the London market," says Wizz chief executive Jozsef Varadi. "The 2022 season has the potential to be a tremendous opportunity for UK aviation to get back on its feet."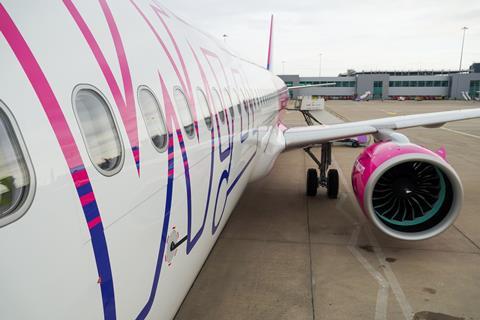 Wizz plans to launch "a host of new low-fare routes" from Gatwick "in due course", it says, as it builds on an aggressive expansion strategy across the Europe region that began in the early days of the Covid-19 crisis.
It does not reveal how much it paid for the slots.
Gatwick airport has been hit hard by the pandemic, with operations consolidated into one of its two terminals, but it remains a major base for EasyJet – an airline Wizz also goes up against at Luton – while British Airways is launching a new low-cost operation at the facility in 2022 as seeks to find a viable short-haul business in the face of budget competition.
Norwegian's slots became available following the carrier's retrenchment amid significant financial difficulties. Its presence at Gatwick included a long-haul operation featuring transatlantic flights and its short-lived Singapore service.
Data suggests that Norwegian continues to hold a significant number of Gatwick slots, even after the Wizz deal.
According to the UK's slot-coordination authority ACL, in November 2020 Norwegian leased 87 weekly slots to EasyJet for the summer 2021 season, while Virgin Atlantic returned 52 weekly slots to the Scandinavian carrier around the same time, among other trades.