Cessna has secured an order from the US Civil Air Patrol (CAP) for 17 aircraft from its piston-engined family, which will replace older models in the volunteer-run organisation's fleet.
The deal, signed on 4 June, is for 11 Skyhawk 172S aircraft, five Skylane 182Ts and one Turbo Stationair T206HD. Deliveries of the high-wing, all-metal singles will begin in the fourth quarter, says Cessna, with the final example to be shipped in late 2021.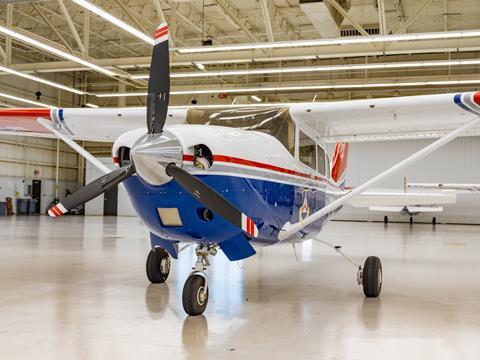 The CAP is the world's largest operator of Cessna piston-singles with a fleet of nearly 550 aircraft, consisting mainly of Skyhawks and the longer-range Skylanes.
Headquartered at Maxwell AFB in Alabama, the CAP recently took delivery of a pair of T206HDs from a 2019 order with Cessna for 19 aircraft. "The final example from this purchase will be delivered before the end of 2020," says Cessna.
It adds that the CAP's aircraft "receive a small amount of extra equipment", including a VHF-FM transceiver, a 406MHz emergency locator transmitter and extra 12v power outlets.
"From search and rescue, to disaster relief and homeland security, the missions the CAP undertake daily are as broad as their footprint across the USA," says Cessna owner Textron Aviation. "The Cessna piston-aircraft fleet is renowned in general aviation for its operating costs, performance and durability, all important factors for an organisation supporting a variety of communities throughout the country," it adds.
In 2019, the CAP saved 117 lives and flew nearly 96,000h in their Cessna fleet, Textron says.