Aeroflot Group is nearing delivery of its first Airbus A350-900, a central part of the Russian operator's fleet modernisation and international expansion strategy for the next three years.
It will receive its first 316-seat Rolls-Royce Trent XWB-powered A350 at the end of this month, gradually using the twinjet type to replace its A330s.
Aeroflot's fleet plan indicates the introduction of 22 A350s by 2023, as it reduces its A330-300 and -200 fleet to three aircraft over the same interval.
The carrier claims the A350 will "inaugurate the next level of seat-mile cost" for the company.
While Aeroflot originally ordered 22 A350s it subsequently reduced the order to 14 – the current figure – after cutting eight A350-800s.
Airbus lists orders for eight A350-900s from an unidentified customer, but there is no immediate evidence that they are linked to Aeroflot.
The airline's fleet strategy involves reconfiguring its Boeing 777-300ERs over 2020-22, including introducing a 1-2-1 seat layout for the business class cabin. It will also change the layout of its premium-economy and economy cabins to "provide for better density".
SkyTeam alliance partner Aeroflot says the measure will create a "unified" long-haul product and generate additional revenue per aircraft.
It aims to increase its 777-300ER fleet by three, from 19 to 22 aircraft, by 2023.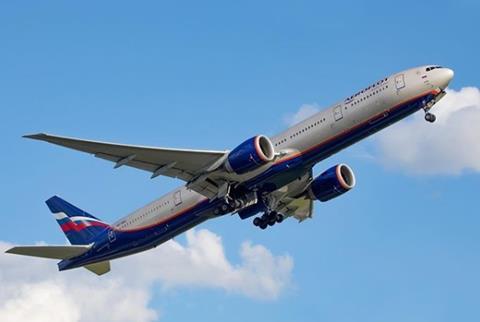 As a result of the rapid introduction of A350s, the hike in 777-300ERs, and the gradual withdrawal of A330s, the airline expects its long-haul fleet to peak at about 56 aircraft in 2021, leaving open the possibility of increasing long-haul capacity as the A330 reduction continues.
Aeroflot's base at Moscow Sheremeyevo has benefited from a third runway but the carrier is aiming to establish another international hub at Krasnoyarsk this year, aiming to begin operations as early as March.
It plans to station eight aircraft initially at the new hub, comprising five all-economy Sukhoi Superjet 100s and three two-class Boeing 737-800s.
Aeroflot is taking the 737s – fitted with 12 business-class and 156 economy-class seats – from the fleet of its sister carrier Rossiya.
They are part of a batch of 16 Rossiya 737s which are being redistributed within Aeroflot Group, with four going to budget airline Pobeda to help offset delayed Boeing 737 Max deliveries and another nine being put into Rossiya charter operations.
Aeroflot will increase the Krasnoyarsk fleet to 12 by 2023, by expanding the 737 component to seven aircraft.
Krasnoyarsk airport was selected for its modern infrastructure – including a new terminal – and is position about halfway between Moscow and Vladivostok. The city does not have a base carrier.
Aeroflot envisions a transit hub for flights operating between Asia, Russia and Europe as well as domestic services.
The carrier indicates that a dozen initial destinations will include the Chinese cities of Beijing and Sanya, along with Russian centres including Ekaterinburg, Sochi, Krasnodar, Novosibirsk and Irkutsk, complementing current links to Moscow, St Petersburg, Khabarovsk and Vladivostok.
It expects to transport 400,000-500,000 passengers at Krasnoyarsk in the first year doubling to 1 million by 2023.
Aeroflot Group's fleet stood at some 364 aircraft towards the close of 2019 but it aims to increase this to 520 – including 80 long-haul jets – over the next three years.
About half of the net 140-150 additional aircraft have been contracted, the company states.
Aeroflot Group expansion strategy also includes opening three new regional bases, at Novosibirsk, Ekaterinburg and Sochi, to support its ambition to increase overall passenger carriage to 90-100 million by 2023.