Alaska Airlines has ordered another 52 Boeing 737 Max jets and secured rights to purchase a further 105, aligning the airline's future with the narrowbody as it aims to divest its remaining Airbus fleet next year.
"This agreement represents the largest commitment for future aircraft in the airline's history," Seattle-based Alaska said on 26 October.
The 52-strong deal includes orders for 10 737 Max 9s and 42 of the yet-certificated Max 10, Boeing says.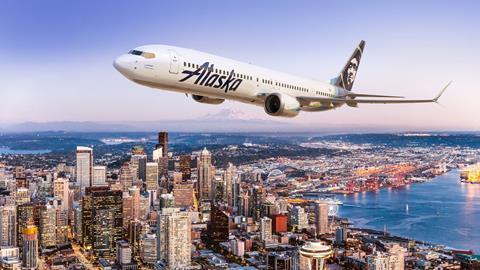 Alaska, however, says the order also includes Max 8s. Neither company immediately responded to questions about the discrepancy.
The airline, a division of Alaska Air Group, says the mix of Max variants enables it "to optimally match aircraft size and capability with market characteristics. We have full flexibility to shift between 737 Max models as appropriate".
The deal will also enable Alaska to move forward with plans to return to being an all-Boeing airline. The company acquired Airbus A320-family jets – it operates 35 – in 2016 with its purchase of now-defunct competitor Virgin America. Alaska's fleet also includes 74 737NGs and 35 737 Max 9s, Cirium fleets data shows.
Alaska says it intends to divest its remaining Airbus jets before the end of 2023.
Prior to today's announcement, Alaska held unfilled orders for 94 737 Max, including 10 Max 8s, 45 Max 9s and six Max 10s, according to Cirium. Alaska now holds orders for 146 Max.
The airline expects in 2023 to receive a new 737 Max every 10 days, and to take delivery of the newly ordered 52 jets between 2024 and 2027.
"This investment secures aircraft to optimise our growth through the next decade, which we know will be a formidable competitive advantage," says Alaska Airlines chief executive Ben Minicucci.
Alaska's Max 9s have 178 seats and Boeing describes the Max 10 as having capacity for 204 seats in two classes.
"Alaska also secured rights for 105 more planes through 2030, ensuring access to sufficient aircraft for fleet replacement and growth," the airline adds. "This order gives Alaska line of sight to operating more than 250 737 Max… by 2030."
Alaska's commitment to purchase Max 10s comes as Boeing works to get that variant, and the Max 7, certificated. But the company faces a critical end-year regulatory deadline that creates significant certification uncertainty.
Under a 2020 law, the Federal Aviation Administration is prohibited, starting in December, from certificating aircraft that lack a modern pilot alerting system.
Max jets lack such systems, meaning Boeing might need to significantly update the Max 7 and 10, a costly project that would necessitate pilot-training changes. Boeing chief executive David Calhoun has said the company will seek an exemption from the requirement.