As Asia-Pacific airlines endure the existential coronavirus pandemic, regional aircraft manufacturers are due to deliver 73 new aircraft to the Asia-Pacific before the end of 2021, of which 61 aircraft are to come from turboprop maker ATR.
The overall delivery number and schedule is based on estimates by Cirium and does not reflect the deferrals that may take place. The estimate is instructive, however, in that it offers a basis of reference.
Uncertainty about air traffic demand, broader economic weakness, and airlines' parlous balance sheets mean the total number of aircraft actually delivered is likely to be considerably lower.
Cirium fleets data reveals that the Asia-Pacific is the world's most important market for ATR.
ATR's 21-month Asia-Pacific order book of 61 aircraft represents the majority of its 102 aircraft planned for delivery before end-2021. Cirium fleets data shows that there are 597 ATRs in service globally. Of these, 247 are with Asia-Pacific operators. This is followed by European operators with 155 and North American operators with 80. Of 58 ATR deliveries in 2019, 33 were to operators in the Asia-Pacific.
ATR's Asia-Pacific order book to the end of 2021 has the advantage of being fairly well diversified among 14 airlines, most of which have just one or two aircraft due for delivery.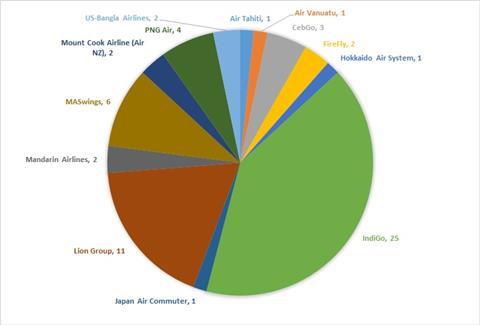 ATR is, however, highly exposed to Indian low-cost carrier IndiGo, which has 25 ATR 72-600s due before the end of 2021. This is followed by Indonesian low-cost carrier Lion Group with 11 examples due.
De Havilland is also set to deliver four Dash-8 Q400s into the Asia-Pacific, with four examples going to Biman Bangladesh Airlines and one to Philippine Airlines.
Regional jet makers also have eight aircraft due in the region in the coming 21 months.
Russia's UAC is supposed to deliver six Sukhoi Superjet 100s to Thailand-based startup Thai Kom Airlines. When the carrier firmed this order in February 2019 the original delivery was supposed to be in late 2019, but this came and went without a delivery.
Embraer has but one delivery scheduled in the region, an E190 E2 due to Air Kiribati, tentatively this summer.
In addition, the first Mitsubishi SpaceJet M90 is due for delivery to All Nippon Airways (ANA) at the end of 2021. In February, Mitsubishi Heavy Industries said the programme had suffered another major delay, and that the aircraft would be delivered in the 2021 Japanese financial year, which runs from April 2021 to March 2022, or even later. Prior to the delay, the ANA delivery had been planned for mid-2020.
It is all too likely that the coronavirus will delay the programme, especially its USA certification effort at Moses Lake, Washington. And, as with other airlines, ANA's network and revenue has been badly impacted by coronavirus.