Boeing booked new orders for 46 commercial aircraft in April but continued to log cancellations, including for its 737 Max and 777.
Customers cancelled 34 aircraft in the month, leaving Boeing with 12 net new orders for the period, the company reports on 10 May.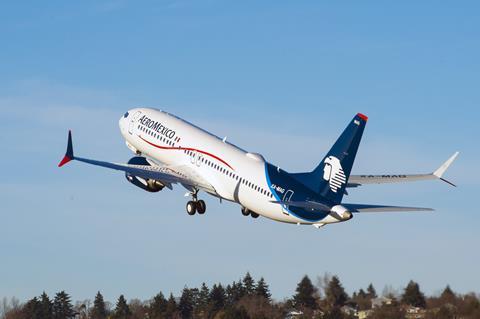 Boeing's 46 new orders in April included 44 737 Max, including six and nine ordered by lessors AerCap and Aviation Capital Group respectively. Unidentified customer accounted for 28 of the orders, together with a order for 737-based Boeing Business jet from an unnamed customer.
The airframer also took orders in April for two 777Fs from an unidentified customer or customers, Boeing says.
The 34 cancellations included 32 737 Max: five scrubbed by lessor Air Lease, two nixed by Aviation Capital and 25 cancelled by Malaysia Airlines. THe latter's cancellation follows news in February that it intends to lease 25 737 Max from Air Lease.
Additionally, AerCap cancelled orders for two 787-10s in April, says Boeing.
Also in April, Boeing added 65 aircraft back into its backlog via adjustments to an accounting bucket called "ASC-606". That bucket houses firm orders that Boeing suspects will not become sales due to factors including the financial condition of customers.
In April, Boeing moved two 737s into that bucket. But it also moved 67 737s out, placing those back into its backlog, the company says.
Boeing delivered 35 aircraft in April, including 29 737s, leaving it short of its goal of delivering 31 of the narrowbodies monthly early this year.
The delivered 737s included one 737NG-based P-8 military surveillance aircraft received by the US Navy, and 28 737 Max.
Customers that took Max aircraft during April include 777 Partners, Aeromexico, Air Canada, Air Lease, Alaska Airlines, Dubai Aerospace Enterprise, Flydubai, Gol, China's ICBC Leasing, Lynx Air, Oman Air, Ryanair, Southwest Airlines and Tui.
Boeing also delivered one 747-8F to UPS, three 777-300ERs to Thai Airways (via lessor BOC Aviation) and two 767-based KC-46 tankers to the US Air Force, Boeing says.
Boeing's deliveries of 787 remain halted, a result of manufacturing quality problems.
The company ended April with 4,218 aircraft in its backlog, up from 4,167 one month earlier.