Scandinavian carrier Braathens Regional Airlines has axed a long-standing order for Airbus A220s, and plans to wet-lease Embraer 190s for regional jet operations.
BRA evolved from the merger of Malmo Aviation with other carrier operations and inherited the order for 10 Bombardier CSeries jets originally placed by Malmo in 2011.
Malmo Aviation, through an associated lessor, had been one of the first four customers to order the CSeries – signing for five CS300s and five CS100s – with plans to take them from 2014.
It was initially aiming to be a launch operator for the CSeries but abandoned this plan in 2014, as it hinted at a postponement of the type's introduction.
After BRA absorbed Malmo Aviation, it expressed concerns over traffic projections, including the impact of additional aviation taxes, and pushed back deliveries of the aircraft.
The jets remained deferred after Airbus acquired the CSeries in mid-2018 and rebranded it as the A220 – by which point the order had been modified to comprise 10 A220-100s.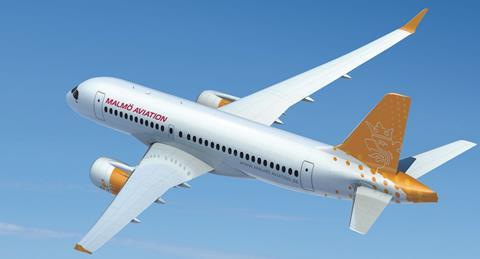 Airbus's latest backlog revision shows that BRA's order for the 10 aircraft has been struck from the customer list.
BRA tells FlightGlobal that the decision not to pursue purchase of the A220 was taken as far back as a year ago.
It says it had considered not only a weakening Swedish domestic market and local currency, but the effects of fuel prices as well as increased government taxes and aeronautical fees.
The carrier also notes that the "extreme flight-shame debate" in Sweden, which has encouraged travellers to choose other forms of transport for environmental reasons, has also contributed to the situation.
BRA has opted to focus on an all-ATR 72-600 fleet. It recently took delivery of an ATR under an eco-friendly financing scheme and expects to receive four more during the first quarter of 2020.
The airline is retiring its BAE Systems Avro RJ fleet, and only four of the 10 remain with the carrier – the final one, it says, will leave the fleet on 29 March.
But BRA is not completely abandoning jet operations. It says it will wet-lease four Embraer 190s from German operator WDL from April, and expand to a fifth aircraft next year.
These jets will mainly serve its primary domestic routes from Stockholm Bromma to Malmo and Gothenburg, as well as Gothenburg-Lyon, and will also be used for charter flights.
BRA will expand its ATR route network in 2020, says the carrier, with routes including Berlin Tegel, Riga, Tallinn, and Torp. The airline is also continuing to wet-lease Fokker 50s from Amapola for smaller routes.