Delta Air Lines has exercised options on 12 more Airbus A220-300s for delivery in 2026 and 2027.
The SkyTeam carrier, which became the first US airline to operate the Pratt & Whitney GTF-powered A220 in 2018, currently operates 14 A220-300s and 45 of the smaller A220-100.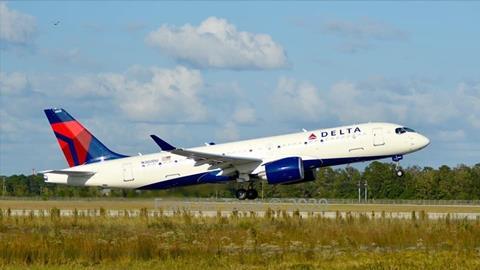 Following today's order, and the dozen options for the type it exercised in July, Delta has 60 A220-300s on order in addition to the 14 already in service. It also operates 45 A220-100s.
Delta vice-president of fleet, Kristin Bojko says: "These 12 additional A220 aircraft will help power our increasingly streamlined fleet while also providing our customers with the elevated in-flight experience they've come to expect from Delta."
Delta operates its A220-300s in a three-class 130-seat configuration featuring 12 seats in first class, 30 in its Comfort Plus extra-legroom economy offering and 88 in the main cabin.
With the latest order, Delta throws more support behind Airbus, with which the airline has closely aligned in recent years. Delta also holds orders for 134 of the Toulouse airframer's largest narrowbody – the A321neo.
Delta has, however, recently diversified. In July 2022 it disclosed having ordered 100 Boeing 737 Max 10s. That type, which Boeing aims to have certificated by early 2024, competes most closely with A321neos.