A special purpose company of Japan's Sojitz Corporation, Atlantis Aviation Corporation, has been revealed as the party behind three Boeing 787-9 orders that were previously attributed to an undisclosed customer.
Boeing made the disclosure following a query from FlightGlobal regarding a 26 February announcement from All Nippon Airways (ANA).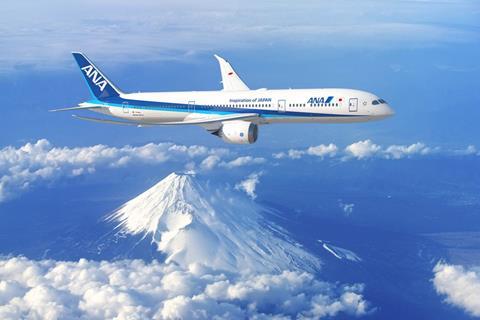 The ANA announcement stated an intention to order 11 787-10s and four 787-9s. It said that three of the 787-9s would come from Atlantis.
Cirium fleets data shows that the 787-9 has 13 orders from "undisclosed commercial customers." Overall, the variant has 335 orders.
The 787-9s, which are earmarked for international services, will enter service in the FY2024-25 timeframe – or between March 2024-26.
The proposed 15 aircraft order is also notable in that ANA is abandoning the Rolls-Royce Trent 1000 engine in favour of the General Electric GEnx-1B. The carrier's 71 in-service 787 fleet is powered by R-R, but the Trent 1000 has had a challenging service life.