Canada's Porter Airlines has again delayed its restart after the coronavirus and associated shelter-in-place orders halted operations eight months ago.
The Toronto-based regional carrier says on 9 November that ongoing travel restrictions within Canada and to the neighbouring USA continue to challenge operations.
Porter has now pushing back its scheduled resumption of flights until 11 February 2021, nearly 11 months after initially shuttering operations on 21 March.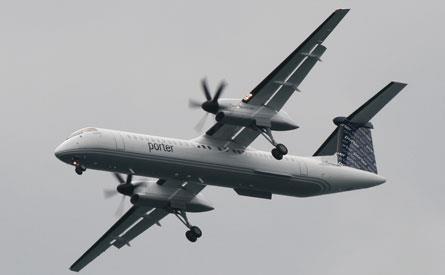 It is the seventh time the restart has been delayed.
The airline says that planning its restart after the traditionally slow weeks following the end-of-year holiday season will give it "a reasonable opportunity to begin flying if conditions improve".
The government of Canada maintains some of the strictest travel restrictions in the world, including a mandatory 14-day quarantine for all inbound passengers. Some individual provinces also have distinct isolation requirements, designed to stop the spread of the highly-communicable virus, but making travel within the country difficult and complicated.
In addition, the border to the United States has been effectively sealed to non-essential travel since 21 March. A re-opening of the frontier has been repeatedly pushed back, and is now scheduled for 21 November.
On 8 November, Canada's minister of transport Marc Garneau said the government was reconsidering a proposal to send financial aid to the country's ailing aviation industry, which has still not been able to return to any semblance of normal as passengers stay away. The move comes months after other nations such as the USA, Germany and France did so for their aviation sectors. Negotiations on a rescue package could begin as early as this week, Garneau said.
Porter has a fleet of 29 De Havilland Canada Dash 8-400 aircraft, with orders for 12 Airbus A220 aircraft, according to Cirium fleets data.