Airbus is close to taking A220 deliveries into triple figures, with the 100th aircraft set to be handed to Latvian carrier Air Baltic.
By the end of November, a month in which it unveiled the 100th aircraft, the airframer had delivered 98 A220s.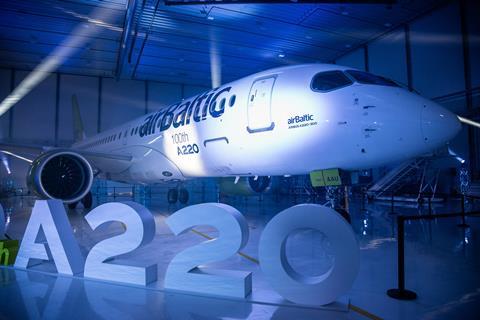 Airbus can technically claim 61 of these deliveries as the previous 37 were carried out by Bombardier when the programme was still known as the CSeries.
Swiss received the first CSeries in mid-2016. Bombardier delivered a total of 23 aircraft to Swiss, nine to Air Baltic, and five to Korean Air.
Airbus took over the CSeries programme in July 2018 and renamed the twinjet as the A220.
It has delivered 28 aircraft to Delta Air Lines – all of them the -100 variant – plus 11 aircraft to Air Baltic, six apiece to Swiss and EgyptAir, five to Korean Air, and two to Air Tanzania.
Airbus has also delivered three A220s to a division of the Russian state aircraft lessor GTLK.
It has handed over a total of 41 A220s so far this year, of which 25 are the larger -300 variant, contributing to a total of 725 aircraft in the first 11 months of 2019.