Airbus is increasing its share in the A220 programme to 75%, with the Canadian government's Investissement Quebec holding the 25% balance, as Bombardier exits from the former CSeries partnership.
The European airframer has confirmed that, under the revised ownership agreement for Airbus Canada Limited Partnership, the Investissement Quebec share will be redeemable to Airbus from 2026, three years later than the previous 2023 timeframe.
Airbus has also agreed to acquire A220 and A330 work package production capabilities from Bombardier in Saint-Laurent, to be taken through the Stelia Aerospace subsidiary.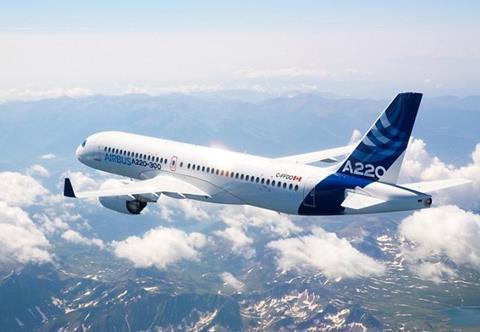 Bombardier will receive $591 million net through the deal from Airbus, of which $531 million was received at closing. The remaining $60 million will be paid over 2020-21.
Airbus adds that Bombardier is "released of its future funding capital requirement" to the partnership.
Investissement Quebec's increased shareholding will come at "no cash consideration", says Airbus. The overall ownership transaction takes immediate effect.
Bombardier had previously revealed, in January, that it was "reassessing" its participation in the A220 programme.
Airbus took a share in the programme, previously known as the CSeries, in 2017 when it was overseen by a 62:38 partnership, called CSALP, between Bombardier and Investissement Quebec.
Its involvement gave the European airframer just over 50% in CSALP. Bombardier retained 33.6% and Investissement Quebec held 16.4%.
Airbus's majority in the programme led to the CSeries' redesignation as the A220 and, last year, a change in CSALP's name to Airbus Canada Limited Partnership.