Comac has completed flight-testing of its ARJ21 regional aircraft at Daocheng Yading airport — the world's highest civilian airport — in Sichuan province.
The Chinese airframer says test aircraft 103 performed take off and landing tests at the airport, before returning to Shanghai.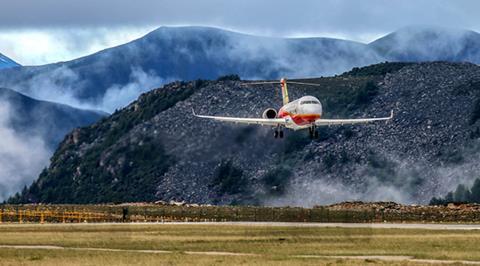 With the one-day sortie completed, Comac says this will "further expand" the maximum take off and landing altitude for the regional jet.
"[The flight test] indicates that the ARJ21 aircraft … can cover all high-altitude airports, laying a solid foundation for the opening of high-altitude routes in the future," the Shanghai-based company adds.
Previous high-altitude flight tests took place in 2013 and 2017, at Golmud and Huatugou airports in West China respectively.
Daocheng Yading, which opened in 2013, sits 4,411m (14,472ft) above sea level. Cirium schedules data indicates that four carriers serve the airport: ARJ21 operators Air China and China Southern Airlines, as well as Sichuan Airlines and Chongqing Airlines.
To date, Comac has an orderbook for more than 300 ARJ21s, with a further 90 on options. In June, the three largest Chinese state-owned carriers, Air China, China Southern and China Eastern Airlines, each took delivery of their first ARJ21.