Boeing declines to address reports it is considering reducing or halting 737 production following news that the Federal Aviation Administration's certification of the troubled jet will not occur in 2019, as Boeing had hoped.
The Seattle Times reported on 15 December that Boeing's board was considering a proposal from Boeing's management to stop production until the FAA lifts the grounding, which has been in effect since March.
The Wall Street Journal also reported Boeing is considering scaling back or pausing production.
Asked to comment, Boeing says, "We continue to work closely with the FAA and global regulators towards certification and the safe return to service of the Max".
"We will continue to assess production decisions based on the timing and conditions of return to service, which will be based on regulatory approvals and may vary by jurisdiction," it adds.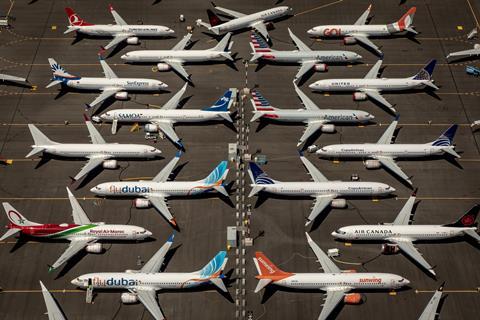 In April, Boeing slashed 737 production from 52 to 42 aircraft monthly, and executives have warned the company could halt production entirely, depending on the duration of the grounding.
The recent news reports say a decision by Boeing about whether to curtail production could come late Monday or early Tuesday.
A halt in production would result in "a substantial number of furloughs", The Seattle Times reports.
For months, Boeing had indicated it expected the FAA to lift the grounding before year-end.
But last week FAA administrator Steve Dickson officially shot down that possibility, saying a 2019 certification is not realistic due to the amount of certification work outstanding.