Pratt & Whitney Canada has unveiled a third variant of its PW127XT turboprop engine series, with the S-model powerplant to equip Deutsche Aircraft's D328eco.
Launched at the Dubai air show last November, the PW127XT has two initial models, the M and the N, which will equip ATR 42-600s and ATR 72-600s from later this year.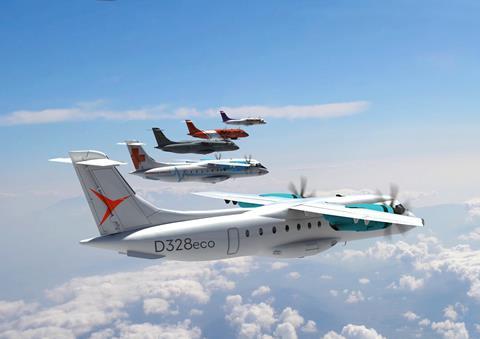 Oberpfaffenhofen-based Deutsche Aircraft had previously selected the PW127S for the D328eco programme, an update and stretch of the original Dornier 328 turboprop which will enter service in 2026.
Key benefits over the current-generation PW127S are a 3% improvement in specific fuel consumption, 40% more time on wing, and a 20% reduction in maintenance costs.
The 2,750shp (2,050kW)-rated PW127XT-S will also be compatible with 100% sustainable aviation fuel, including those produced through the power-to-liquid process.
The companies will also work together to "jointly develop a technology roadmap for implementation, test, and verification" of future propulsion systems on the D328eco, including the use of hydrogen.
"The parties will assess the impact of these fuels and related technologies and operations to derive the requirements and solutions for the application," says P&WC.

Dominic Perry is deputy editor of Flight International but also contributes extensively to flightglobal.com. Although specialising in the coverage of the helicopter industry, he has written on most topics in aerospace – be they commercial, defence or business aviation. In addition, there has been an increasing focus on the decarbonisation of the industry and zero-emission flight initiatives.