US firm Wright Electric is aiming to conduct ground tests next year, and flight tests in three years' time, of a motor intended to provide propulsion for an electric airliner.
The company is constructing a 1.5MW electric motor and a 3kV inverter – a system to convert direct to alternating current – which will be the basis of the proposed aircraft's powerplant.
UK budget carrier EasyJet is a partner on the programme to develop the 186-seat electric aircraft, known as Wright 1, and says the motor and fan were previewed at an event in New York on 30 January.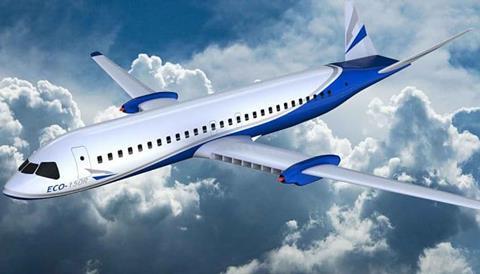 Wright Electric chief Jeffrey Engler says the company is aiming to make commercial aviation more environmentally-friendly and that its megawatt engine programme is "the next step in making our mission a reality".
EasyJet says the flight testing of the motor is intended to take place in 2023. The aircraft, for which aerodynamics testing will run parallel to the powerplant design, is planned to enter service in 2030.
Wright Electric is holding talks with BAE Systems connected to flight-control and energy-management systems.
"The motor development program is the next step towards building its narrowbody class aircraft," says EasyJet.
EasyJet has indicated that a 300nm electric aircraft could potentially serve a number of domestic and international routes on its network.
Chief executive Johan Lundgren describes the "ambitious timeline" for Wright Electric's test and entry-into-service schedule as "exciting to see".
"Battery technology is advancing at pace with numerous US government agencies now funding research into electric aviation," he says. "All of these developments help us to more clearly see a future of more sustainable operations.
"We can see more clearly than ever a future that is not exclusively reliable on jet fuel."