Airbus has flown the last production A380 from Toulouse to its Hamburg Finkenwerder plant for completion ahead of its delivery to Emirates.
The flight of the aircraft, MSN272, took place on 17 March a little more than two years after Airbus opted to cease production of the double-deck type.
Airbus chief executive Guillaume Faury says the maiden flight marks "another remarkable day" for the airframer's Toulouse facility.
"[We are] looking forward to supporting this iconic aircraft and its customers for many years," he adds.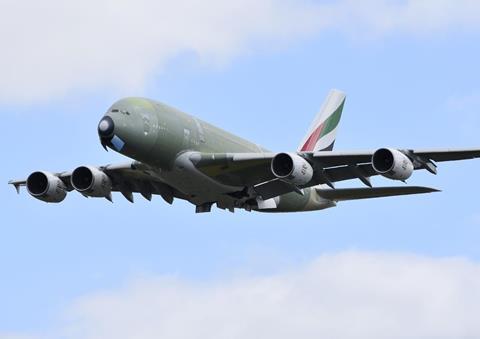 Dubai-based Emirates, the largest operator of the type, had received 118 of the 123 A380s it has on firm order by the end of February.
While the last aircraft – fitted with Rolls-Royce Trent 900 powerplants – carries the serial number 272, airlines have ordered a total of 251 A380s.
Emirates also operates A380s powered by Engine Alliance GP7200 engines.
Several carriers have chosen to withdraw the A380 from service since the onset of the pandemic, despite the relatively young age of the jets, although a number of customers including Singapore Airlines, British Airways and Qantas appear likely to remain A380 operators.