Initial fuselage panels for the modernised version of the Ilyushin Il-114 turboprop have been manufactured by the Aviastar production plant in Ulyanovsk.
The Il-114-300 is an upgraded derivative of the original design, and is being developed to address Russian demand for regional air transport.
Aviastar says the first fuselage compartment panels, as well as hatches and doors, are being built at the Ulyanovsk facility.
New electronic design documentation is being used to produce the aircraft "from scratch", says aircraft components manufacture director Grigory Istomin.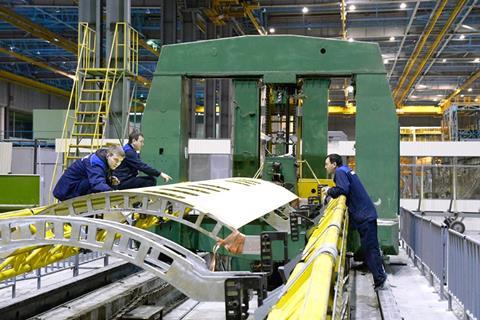 Aviastar says the first panels are intended to be fitted to the second Il-114-300. The aircraft will be assembled at the MiG RSK production facility in Lukhovitsy.
Preparation work is under way at Ulyanovsk to supply components for the third airframe, it adds, while the production rate is set to increase under a programme approved by United Aircraft's transport aviation arm.
The Il-114-300 will be capable of carrying up to 68 passengers and is intended to replace older types including the Antonov An-24 and An-26.
It will be powered by the Klimov TV7-117ST engine which has recently completed its latest test phase on an Ilyushin Il-76 laboratory aircraft.