Manufacturer evaluates whether to commit to extending production of 747-8 Freighter
Tension is building within Boeing about whether to keep the 747 in production beyond the current order backlog, as a decision looms on the future of the iconic aircraft.
Crunch-time for the manufacturer is approaching as it must decide whether to establish a new supply of key structures for the 747-8 following production partner Triumph's decision to exit the programme, or turn away customers for additional orders and declare an end to the iconic aircraft.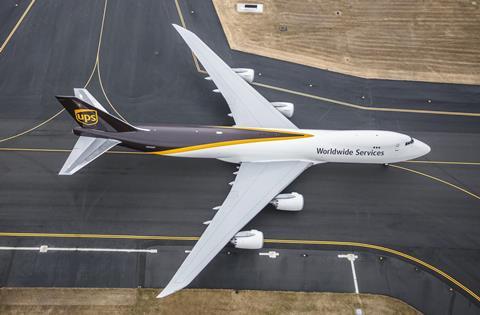 The last commitments for the 747-8 Freighter came in 2018, when UPS ordered 14 examples and Volga Dnepr signed for four. Production of the passenger 747-8I variant concluded in 2017 after 47 aircraft had been shipped. Total 747-8F deliveries stand at 90 aircraft. The entire firm backlog of 13 aircraft is for UPS (Boeing excludes Volga-Dnepr's order from the backlog under ASC 606 accounting rules). UPS is also the largest -8F customer, with 28 orders in total.
Sources tell FlightGlobal that with the decision looming over whether to shore up the 747's future, there is increasing internal tension about whether or not to continue production. FlightGlobal has learnt that approaches from two customers about potential new orders did not elicit any response from Seattle.
In addition, within the last two years, five 747-8F customers are understood to have penned a joint letter seeking Boeing to clarify its position on the programme's future.
Despite being in the sunset phase of its life, the 747-8F offers unique cargo-carrying capabilities. At 138t, the 747-8F has significantly greater payload than the next largest civil freighter - the 777F at 102t - and also offers the flexibility of nose-loading for outsize cargo. Its demise would leave cargo carriers facing a crucial hole in the availability of new-build large capacity freighters.
Boeing confirms that based on the current output rate of around 0.5 aircraft a month, delivery of the remaining UPS order should be concluded in just over two years; UPS says its deliveries will run through to 2022.
Triumph, through the legacy of its Vought division, has been part of the 747 programme since its start more than half a century ago. On the 747-8, the company had responsibility for fuselage panels across the entire aircraft, apart from the section 41 nose assembly, along with floor beams, doors, fin and tailplane (including rudders and elevators). It also produced the section 48 aft fuselage assembly. The bulk of the work was carried out at its plants in Hawthorne, California and Marshall Street, Grand Prairie, Texas.
However, several years ago, Triumph decided to withdraw from the programme and production is being wound up. Speaking during Triumph's full-year earnings briefing in February, chief executive Daniel Crowley said: "In calendar year 2020, we'll deliver our last 747… fuselage panels and wind down the two plants."
Triumph said on 27 May in an update about its strategic review that its Hawthorne factory completed its final 747 fuselage panels "earlier this year".
Sources indicate that Triumph is supplying Boeing with sufficient structures to complete its backlog, but any additional aircraft will need to tap a new line – be it through internal sourcing or an external supplier. It is understood that Boeing has determined a minimum number of orders required to commit to a new supply-line and extend 747 production - a figure believed to be close to 100 aircraft.
Boeing declines to comment about the level of its component stockpile, the size of any required backlog to commit to additional aircraft or when it needs to take a decision about continuing production.
"We are continuing to build 747-8s to meet the backlog of orders for the airplane and will continue to make the right decisions to keep the production line healthy," it says. "With production slots filled for several years, we are working closely with our suppliers and have plans in place to support 747-8 production to meet our customer commitments."
Reporting by the FlightGlobal team