Sukhoi's civil aircraft division has delivered the first Superjet 100 with the 'sabrelet' winglet modification to Russian carrier Severstal Aircompany, following approval from the federal regulator.
The aircraft (RA-89135) features a new winglet intended to generate a 4% reduction in fuel costs.
Sukhoi Civil Aircraft says it has obtained major change approval from air transport regulator Rosaviatsia following a series of flight tests.
"It was important that the new development didn't affect the mass of the aircraft," says the airframer's deputy director general for development Andrei Nedosekin.
The winglets are constructed of composite materials. "Apart from a lower fuel burn, the installation of the winglets will improve the take-off and landing performance," Nedosekin adds.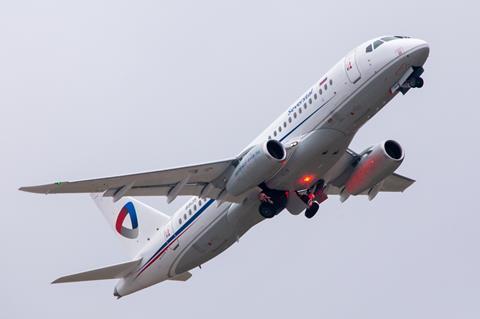 Severstal originally took delivery of the aircraft in June but it was placed in storage to await the winglet retrofit.
"The retrofitted aircraft is more environment-friendly and it's a benefit for us, taking into consideration the expansion of international route network," says Severstal chief Nikolai Ivanovsky.
Sukhoi Civil Aircraft says airlines will be able to select the sabrelets as part of aircraft production or perform the retrofit themselves on aircraft already delivered. The retrofit service bulletin has already been developed and published, the airframer adds.