Ilyushin has transferred the first test-flight Il-96-400M airframe to a final assembly line where it will be fitted with control systems and its cabin interior.
Fuselage mating and attachment of the primary wing structure is complete.
The prototype of the four-engined transport is intended to be finished before the end of this year, at which point it will be sent for ground testing.
United Aircraft's transport aviation division chief Yuri Grudnin says the first flight is set to take place in 2021.
"Work on the programme for creating the new Il-96-400M is on schedule," he insists.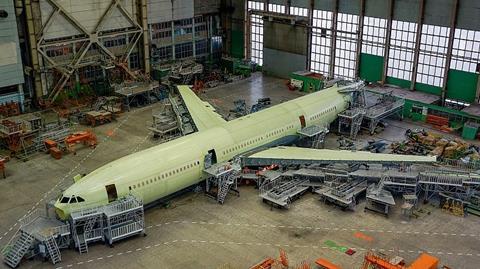 The aircraft will be available in three basic versions – a three-class 305-seat layout, a 350-seat two-class layout, and a high-density 402-seat all-economy configuration for the charter market.
United Aircraft points out that the airliner – developed from the Il-96-300 – will comprise Russian-sourced components, including its Aviadvigatel PS-90A1 engines.
"Modern navigation and radio communication equipment will meet current and future requirements of international aviation authorities," the company adds.