Airbus's rear centre tank for the A321XLR must be designed such that no fuel is released near the fuselage or engines in quantities sufficient to start a serious fire, in the event of a survivable crash, the European safety regulator has proposed.
The European Union Aviation Safety Agency says current emergency landing conditions for certification must be complemented given the "unusual design, location and installation aspects" of the tank.
EASA states that the only guidance for protection of fuel tanks in the fuselage is based on a US FAA advisory circular focused on auxiliary tanks which do not share any boundary with the fuselage skin.
The regulator also points out that survivable accidents have occurred beyond the existing defined emergency landing conditions.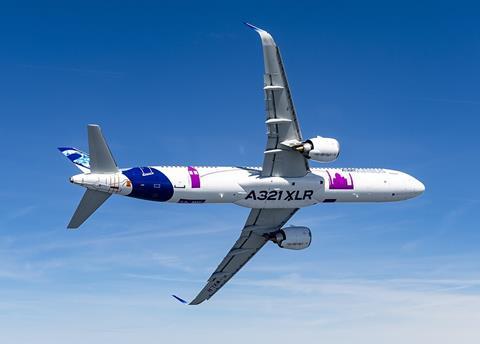 EASA is proposing a special condition for the structural fuel tank which demands that – during a survivable crash – it must not release sufficient fuel to ignite a serious fire, and that situations including runway excursion, as well as loss of landing-gear and engines due to collision with obstacles, must be considered.
The regulator states that the tank should be fitted in an area which is "not likely to fail or rupture" during various impact scenarios, and suggests applicants should consider incorporating such features as a bladder or crushable structure to mitigate impact and ground-scraping effects.
Analysis of tank integrity should consider parameters including a vertical descent rate of 23ft/s, various fuel-level and payload states, while demonstrating that no hazardous fuel leak results.
EASA adds that the airframe accident assessment should take pitch attitudes outside of the normal envelope into account.
Sliding scenarios should examine up to 20° yaw angle at specific forward speeds. Sliding along the ground after a variety of impact conditions, says EASA, should not result in temperatures inside the tank rising to the point of fuel ignition, or damage resulting in a serious leak.
EASA has already published special conditions relating to protection against external fire burnthrough, in February 2021, as well as protection against vapour ignition or explosion in June this year.