Latvian carrier Air Baltic is inspecting one of its Airbus A220-300s after a landing incident at Riga during poor weather.
The incident involved the airline's BT694 service from Paris Charles de Gaulle, which touched down on runway 18 at 23:17 on 8 March.
According to Air Baltic the aircraft's nose-wheel "slid off the hard runway surface" after the landing. It states that none of the 89 passengers and seven crew members was injured.
The carrier says heavy snowfall was present at the time.
Meteorological information from the airport indicates snow showers and 10kt west winds gusting to 23kt, which would have generated a crosswind component from the right.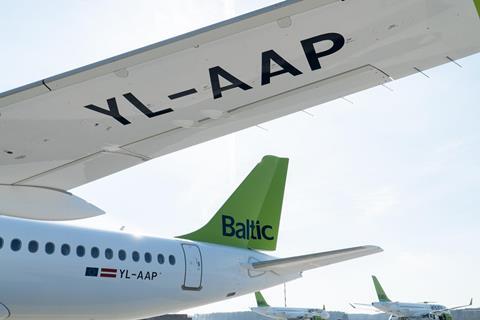 Riga airport's operator states that the runway was closed for 3h. This affected six inbound flights, which had to divert. The runway has since undergone inspection and re-opened.
Air Baltic says the aircraft is being inspected.
It identifies the A220 involved as YL-AAP, an airframe delivered to the carrier in March 2019. Cirium fleets data lists the twinjet as being leased from Avation.