Air Djibouti has disclosed that a Boeing 737-500 has suffered an accident upon landing in north-eastern Somalia.
The aircraft (EY-560) experienced a "tyre problem" during the landing at Garowe Puntland airport on 2 December, the airline states.
As a result the twinjet "left the runway", it adds, although there were no injuries among the 39 passengers and five crew members.
Images circulating on social media purporting to show the accident scene indicate that the aircraft remained on a paved area, although perpendicular to the axis.
Its right-hand main landing-gear has apparently collapsed and left the aircraft resting on its starboard CFM International CFM56 engine.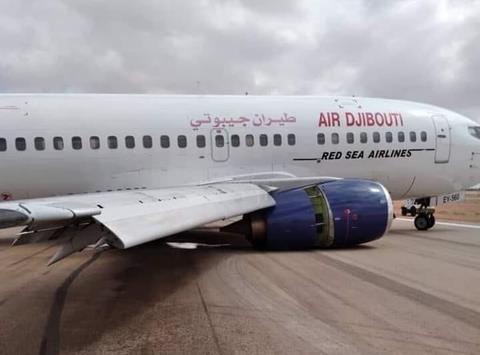 Cirium fleets data indicates the 737 is the only large jet in the Air Djibouti fleet, which primarily comprises Let L-410 and Harbin Y-12 turboprops.
The 1992 airframe is Tajik-registered and Cirium lists it as being leased from Tajikistan's Asia Sky Lines.
It was originally delivered to Belgian operator Sabena and flew with carriers including Russia's SkyExpress and Kuban Airlines before being transferred to Air Djibouti early last year.
No meteorological information is available from Garowe airport but the images of the scene suggest good weather.
Air Djibouti has not disclosed any maintenance data for the aircraft.
While the circumstances of the accident have yet to be determined, analysis of several landing-gear collapse events involving older-variant 737s have indicated a susceptibility to shimmy at higher landing speeds, particularly at hot-and-high airports.