Investigators in the Bahamas are probing a runway excursion involving an American Eagle service from Miami which badly damaged the aircraft.
The Embraer ERJ-145 – identified as N674RJ – had landed on runway 06 at Grand Bahama airport following the short 100nm flight from Miami on 24 October.
It arrived just before 12:00. Meteorological data from the airport indicates a 7kt crosswind component from the right but good visibility and no other adverse conditions.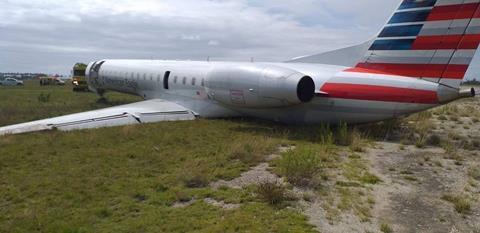 Bahamas' Air Accident Investigation Department says it is looking into the "runway excursion" involving flight 4194, operated by Envoy Air.
An image of the site released by the inquiry shows the ERJ-145 on rough ground, its nose-gear extended but its main landing-gear apparently collapsed.
The US FAA states there were 25 passengers and three crew members on board, none of whom was injured.
Cirium fleets data lists the aircraft as having been delivered new to the airline in 2004.
Grand Bahama airport's runway is around 3,360m in length.