One of British Airways' Boeing 787-8s appears to have suffered a nose-gear retraction or collapse at London Heathrow.
Images purportedly from the scene, circulating on social media, show the twinjet (G-ZBJB) with its forward fuselage in contact with the ground.
They also show a mobile passenger staircase still elevated to the normal second left-hand passenger door position still elevated, suggesting that it had been in place when the incident occurred – possibly damaging the door which appears to be missing.
British Airways says the aircraft was operating as a freighter, with no passengers on board, adding that it sustained damage on 18 June while stationary on its stand.
"Safety is always our highest priority and we are investigating the matter," the carrier adds.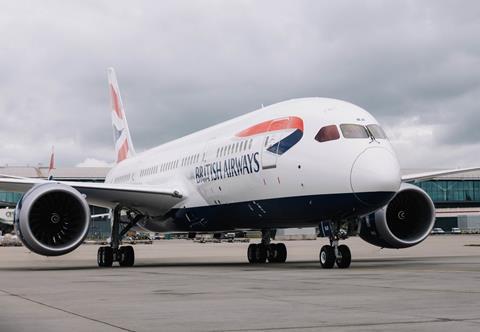 FlightGlobal understands that there are no knock-on delays or cancellations as a result of the event. The UK's Air Accidents Investigation Branch says it has sent a team to probe the incident.
Preliminary evidence indicates the jet had been parked at the airport since arriving from Moscow Domodedovo on 16 June.
British Airways originally took delivery of the aircraft, powered by Rolls-Royce Trent 1000 engines, in 2013.