Iraqi Airways states that a missile attack on Baghdad airport has damaged an out-of-service aircraft, but that the carrier is continuing to operate services.
The attack took place at dawn on 28 January, the airline says.
It has released photographs of a parked aircraft, the nose-gear doors of which identify it as an Airbus A300B4 registered YI-APX.
The General Electric CF6-powered twinjet appears to have sustained damage to its left-hand forward fuselage, just behind the cockpit.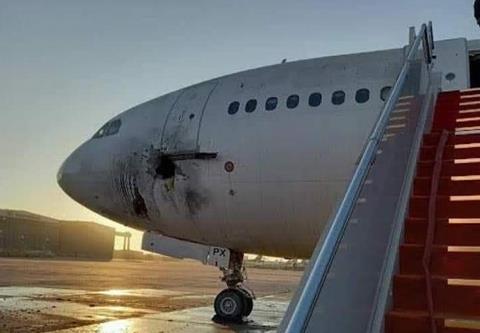 Iraqi Airways says the A300 was located in an area where several old and disused aircraft are parked.
But it says the incident "did not affect the company's operations" and it is continuing "normal air traffic" on its regional and international network "without any obstruction".
The A300 involved was originally delivered to EgyptAir in 1983, according to Cirium fleet data.
It flew for operators including Japan Air System and Iranian carrier Mahan Air before being transferred to Iraqi Airways in 2007, and eventually withdrawn in 2013.