Kazakhstan's government has suspended flight authorisation for local operator Bek Air in the aftermath of the fatal Fokker 100 accident at Almaty.
The aircraft had been operating flight Z92100 to the capital, Nur-Sultan, when it lost height after take-off and crashed into a concrete wall, says the Kazakh ministry of industry.
It confirms the identity of the aircraft as UP-F1007, a 23-year old airframe, adding that an airworthiness certificate for the Rolls-Royce Tay-powered twinjet was issued in May this year, and was valid until May 2020. The jet was placed on the Kazakh registry in July 2013.
The ministry says the aircraft subsequently collided with a two-storey building in the Guldala region of the Talgar district of Almaty. It indicates that the aircraft came to rest some 500m to the right of the centreline, and at the far end, of runway 05R.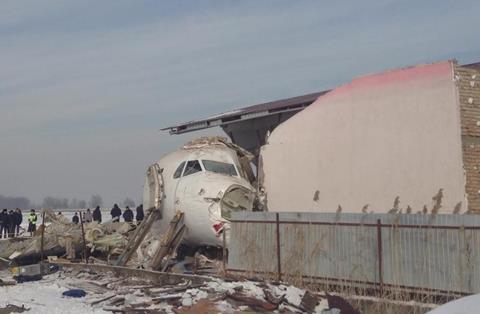 Meteorological data from Almaty airport at the time of the accident, 07:22, indicate reduced visibility as a result of mist and a slight crosswind from the south-east on the departure runways. Temperatures were around minus 12C.
Two pilots, both with valid certificates, and three cabin crew were on board, as well as 93 passengers.
Preliminary information, says the government, indicates that the accident has resulted in 12 fatalities.
"Details on the circumstances and causes of the accident will be established," it adds.
The government says that Bek Air's flight certificate and operating authorisation have been "suspended" as of 27 December, until further notice, by the country's civil aviation administration. Bek Air has nine Fokker 100s, it states.
Kazakhstan had been the subject of a long blanket blacklisting by the European Commission, which commenced in 2009 and ended just three years ago after intense efforts by the government to bring safety oversight up to international standards.
During the blacklisting only Air Astana had been approved to continue operations to European destinations.
The Kazakh Civil Aviation Committee, the air transport regulator, undertook an in-depth overhaul of regulations and safety-management processes.
This was recognised by the European Commission and the European Union Aviation Safety Agency, and the progress was rewarded with the lifting of the ban in late 2016.