Canadian airlines are calling the government's new coronavirus rules for inbound travellers "piecemeal" and "narrow", and warning the measures will further confuse air passengers looking to enter Canada.
On 19 November, the government of prime minister Justin Trudeau said it will scrap, at the end of the month, a PCR-test requirement for citizens and permanent residents returning to the country if they were abroad less than 72h.
The pre-departure test will remain mandatory for travellers who spent more than three days outside the country prior to returning, the government said.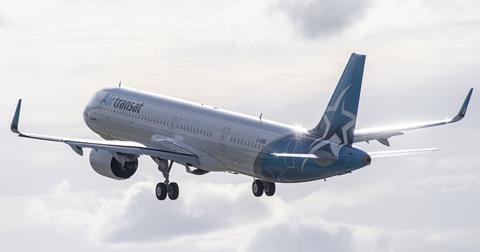 "We are somewhat encouraged by today's announcement," says Mike McNaney, chief executive of National Airlines Council of Canada (NACC), on 19 November.
"PCR tests are expensive and unduly increase the cost of travel, in particular for families," he adds. "But, by only focusing on short trips and Canadian travellers, government has taken a piecemeal approach that is not justified nor based on science."
No other country has taken "such a narrow approach", and the costly molecular test is "no longer justified" for fully vaccinated travellers, McNaney says. "Today's announcement will continue to create confusion for consumers."
The government of Canada earlier in the day said only travellers "who depart and re-enter by land or by air and can demonstrate that they have been away from Canada for less than 72h" will be exempt from the test requirement.
That said, the country already requires that all travellers entering Canada must show proof they are fully immunised with one of several vaccines approved by the World Health Organization. On 30 November, the country will expand that list to include the Sinopharm, Sinovac and COVAXIN vaccines, in addition to those developed by Pfizer/Biontech, AstraZeneca, Moderna and Johnson & Johnson.
"As we restart many aspects of our economy, including travel, vaccination will continue to play an important role in keeping each other and our transportation systems safe and secure," Canada's Minister of Transport Omar Alghabra said. "No matter the final destination, ensuring travellers are vaccinated against Covid-19 protects travellers and transportation workers."
In a further change, the government said that as of 15 January 2022 certain travellers now exempt from the vaccine requirement (including professional sports teams, essential service providers like truck drivers, and international students) will need to be vaccinated to enter the country.